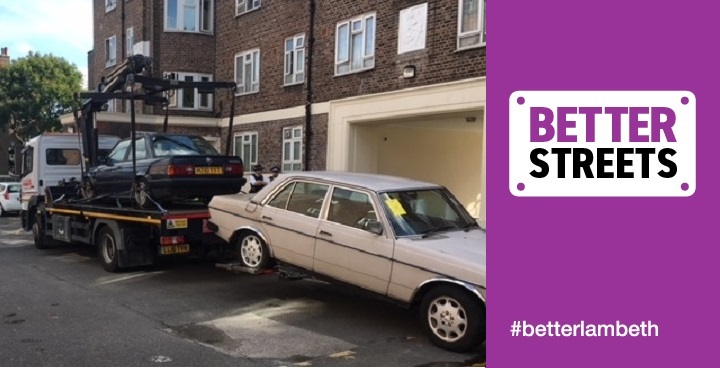 Tulse Hill Safer Neighbourhood Team asked Lambeth Housing Management to work in partnership to deal with the problem of unlicensed, untaxed, un-MOT'd cars on Tulse Hill Estate.
Criminal motors?
"Some residents worry that cars can be dumped here from anywhere in the country after being used in drugs crime or anti-social behaviour," says Tenancy Enforcement Officer Michael Lawrence.
The police supplied a list of 96 known problem vehicles – number plates, makes and colours. Housing Management arranged for parking enforcement partners ACPOA to have four car transporters on site all day. Police officers identified the vehicles, APCOA labelled them and scooped them up to take to the car pound on Old Kent Road.
Clearing up crime
During the day we removed 16 vehicles, including one stolen vehicle. The police also followed up with one resident who appeared to be involved in a 'cloned car' fraud. There were two cars – one new, one classic – with only one set of papers and one registration number between them.
"We were delighted to work in partnership with Lambeth Council to reduce crime, remove unlicensed vehicles from the estate and take knives off the streets. The operation was a success that we are keen to replicate across other parts of the borough. This is also about sending out the message the Tulse Hill estate is not a dumping ground for uninsured or stolen vehicles." – A/Insp Steve Warnes, Metropolitan Police
Follow-up days
The plan is to repeat the process until all 96 cars are cleared – probably about once a month. The Police day of action also included a weapons sweep for knives, machetes and firearms – they recovered weapons including a large kitchen knife.
Licensing
"If bringing the transporter back to clear vehicles regularly encourages owners to get vehicles properly taxed and insured to park them on the estate, that's another way of reducing crime on the estate," said Michael. "People also need to know that if they want to have a vehicle officially off the road they can't just apply for a Statutory Off-Road Notice (SORN) – they need to ask the Housing Management Office for permission to leave a SORN car there."
Follow-up places
Area Housing Manager Paul Webb said:
"Once we've cleared Tulse Hill, we have a shortlist of other Estates where enforcement will make the environment safer and more crime-free with similar days of action. But if residents on any estate are worried about untaxed, unlicensed cars, we want to hear about it so we can take action."
---
For more information