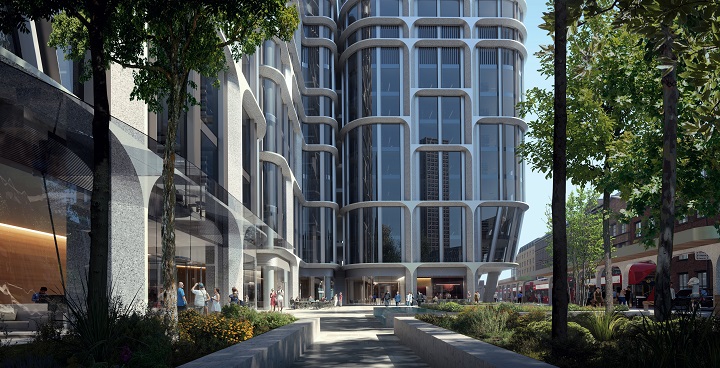 The council's Planning Committee passed the application on Tuesday (Dec18) for two new blocks and connecting podium building that would be built between what is currently Wandsworth Road, Parry Street, Bondway and Vauxhall Bus Station – in the middle of the Vauxhall Gyratory.
As part of giving planning permission, Lambeth council has secured an agreement from the developer that they will pay the authority £30million towards building new council homes in the borough.
Word from the Cabinet
Cllr Matthew Bennett, Cabinet Member for Planning, Investment and New Homes, said: "This decision is really important for Lambeth because of the benefits it delivers. It paves the way for new homes, a new town centre and extra council flats.
"As a council we are determined to improve air quality, address the housing crisis, support business and create opportunity for all our communities, including creating 8,000 new jobs in Vauxhall. This project contributes to all those goals.
"The site which gained planning permission is known locally as the 'Vauxhall Island Site' and is currently unused and can't be accessed by residents, despite being next to a Zone 1 tube station, just metres from the Thames and within walking distance of Westminster.
"We are determined to deliver for our borough, and ensure we are able to unlock this area's full potential."
Pedestrian and cycling friendly
The site is based on the future road layout that would be created once a proposal to convert the Vauxhall Gyratory back into a two-way street is completed, which is essential for making a town centre that is pedestrian and cycling friendly.
The proposed development would have a 53-storey tower, a 42-storey tower and a 10-storey connecting podium. The shorter tower would have 257 homes and the taller one would have a 618 room hotel. The podium would feature the office space with 29 Blue Badge parking spaces for disabled drivers and 704 cycle spaces in the basement. At street level would be a new public square as well as 53 visitor cycle spaces.
Affordable homes
There would be 23 London Living Rent flats on-site and the £30 million would be for affordable rented homes elsewhere in the borough, bringing the scheme up to a level equivalent to 30 per cent affordable housing.
The development is designed to fit in with Transport for London (TfL) and the council's redevelopment of Vauxhall bus station, and would include three new bus shelters.
The developer has also agreed to provide £780,000 towards supporting local employment and skills development, £960,000 towards carbon offsetting, £600,000 over ten years towards the open space, £220,00 towards a cycle hire dock. The development would also be liable for a local community infrastructure levy of approximately £22.4million and Mayoral Community Infrastructure Levy of around £5.4million for transport.
The site which used to have worker's housing was heavily bombed in World War II, and was subsequently cleared, meaning it now mainly just has advertising hoardings on boarded off empty land. The wider Vauxhall area is being redeveloped with a range of projects underway.
New bus station
This removal of gyratory which would also include a new bus station, which was granted planning permission in February this year. The proposed development would require a land swap with TfL to allow both the gyratory works and the proposed development.
To read the report visit the council's website.