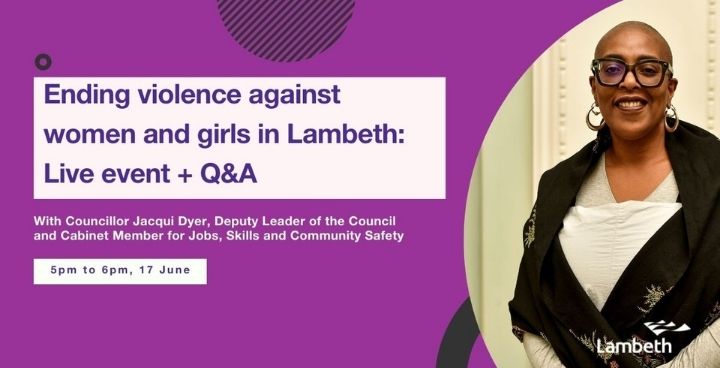 The council has spent several months speaking to residents and local groups about women's safety at home and on the streets of Lambeth.
All women and girls should be able to feel safe and it is a profound failure of our society that they do not. Lambeth Council is committed to tackling violence against women and girls, and details of our support information in regard to all forms of gender-based violence is available at www.lambeth.gov.uk/vawg
The meeting is hosted by Cllr Jacqui Dyer, cabinet member for Jobs, Skills and Community Safety, and Merlin Joseph, the council's Strategic Director of Children's Services, and will seek views and input to shape future policies to make the borough safer for women and girls.
Word from Cabinet
Cllr Dyer said: "It is imperative that women and girls feel safe walking the streets of Lambeth and feel safe when they walk through their front door. The council has worked hard over several years to offer support and advice to women and girls who are affected by violence and abuse, and all residents affected by gender-based violence.
"But we also recognise much more needs to be done in the coming years to raise awareness and improve the support on offer for those who need it most. I would urge all Lambeth residents to join the discussion and have their say on one of the most important issues facing our society."
Refuge centres
Lambeth council funds the largest number of refuge centre beds in London with 52. There is also specialist community-based support for survivors of violence and the council has commissioned sexual violence therapeutic support services, with a further service planned to deter sexual assaults related to the night-time economy.
Word from Cabinet
Cllr Dyer added: "We cannot shy away from the realities that many women face.
"The feeling of fear, intimidation, harassment and helplessness cannot continue, we need to confront these problems head-on so we can come up with a lasting, long-term solution to the deadly violence and abuse too many women and girls experience, and all residents affected by gender-based violence."
Join the meeting
Register to join the event The meeting will take place on Thursday, 17 June 2021, at 5pm on Microsoft Teams.