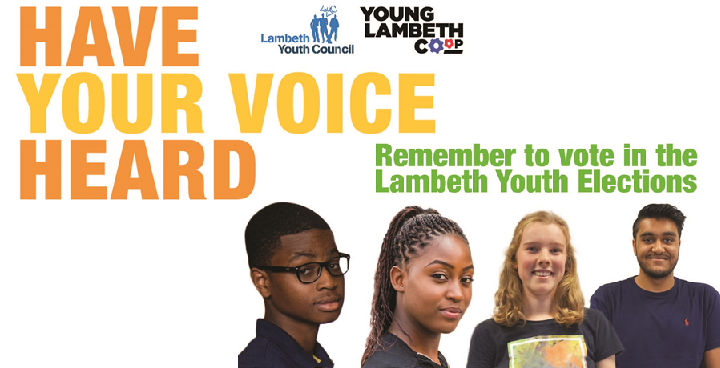 The Young Lambeth Coop (YLC) launched last summer, and now has 5,000 members with opportunities for them happening all the time. The YLC is the first organisation to give people who live, work, play or use services in Lambeth an opportunity to have a say in how funding for youth services should be spent. Anyone with an interest in improving the lives of young people in Lambeth should sign up to become a YLC member.
This year the Young Lambeth Coop (YLC) and the Lambeth Youth Council are running a joint election to continue to help raise the voices of young people in Lambeth. We want as many people as possible to vote for who you want to see steer the YLC into the next direction.
View the Have Your Voice Heard leaflet

How to vote for the YLC Steering Group
There are 14 nominees in the running to join the YLC Steering Group as Young Members. Anyone with an interest in the young people of Lambeth can sign up to vote.
Voting starts on the 26 November and closes 3 December.
Visit www.younglambethcoop.co.uk/elections2015, check out the video manifestos and select the young person you think should sit on the YLC Steering Group.
How to vote for Youth Council
There are 18 candidates running in the Youth Council elections, which include candidates for the positions of Youth Mayor, Youth Cabinet and UK Youth Parliament Member.
Voting for the Youth Council positions will open from the 1 December to 3 December, with ballot boxes in the following schools:
Archbishop Tenison's School
Bishop Thomas Grant
City Heights E-ACT Academy
Elmgreen
La Retraite
Lambeth Academy
Lilian Baylis
London Nautical School
Oasis Southbank Academy
Saint Gabriel's College
There will also be a ballot box in Brixton Library.
What next?
Spread the word and vote! The votes will be counted and announced on the 4 December!
You can stay up to date by visiting the twitter pages: @ylcoop or @YouthCouncilLam
For more information you can email us at inbox@younglambethcoop.co.uk