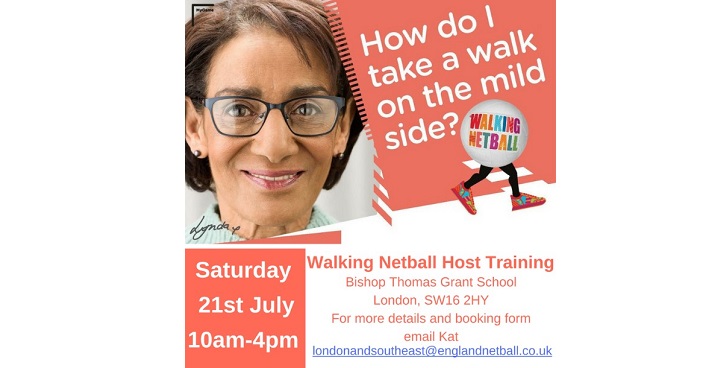 We're looking for friendly, chatty, approachable women with a great sense of humour to become Walking Netball Hosts in Lambeth. And your training's free.
What is Walking Netball?
Walking Netball is netball at walking pace. The game is designed for anyone, any age or fitness level. One of netball's strengths is that people never forget how to play or why they love it.
Why Walking Netball?
Regular activity helps maintain strength, flexibility and energy levels, making a big difference to quality of life. Walking Netball is ideal – start gently, do a little more each session. It helps keep bones strong by forcing the lower half of your body to bear weight as you move. Older people see many benefits: lower heart rate and blood pressure, less fat, more muscle, and better mobility.
Not just exercise
Women all over the UK play Walking Netball for fun, laughter and camaraderie, as much as the health benefits. It can give someone who feels isolated an outlet, provide activity if they who don't feel fit to run, or offer a stepping stone back into netball.
What will I learn as a host?
A six-hour workshop mixes theory and practical sessions. You'll learn to:
Understand the game and ethos of Walking Netball
Be clear on the role of a host
Create a great first experience
Provide ideas for fun and relevant practices for Walking Netball sessions
Deliver safe, fun and inclusive sessions.
What's being a host like?
Former teacher Linda says: "Hosts are there to offer tips, but more for encouragement and growing leadership within the group. It's satisfying seeing a netball group develop. Some players arrive a little tentatively. Seeing them grow in confidence makes it all worthwhile. Watching friendships grow makes me smile. My way of running the sessions is similar to hosting a dinner party. You want everyone to feel welcome, have a good time and get on. It's important to adapt each week to help the group gel."
---
For more information
Get your application in before 16 July.
To find out more about Walking Netball and becoming a host, email Polly Howell or visit England Netball's information pages