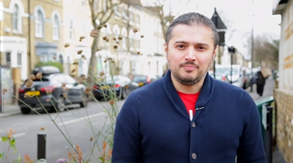 This year, the council will be deploying a team to give the borough's streets an annual 'deep weed', while council street sweepers will also be working to address any unwanted growth.
Cllr Danny Adilypour, joint Cabinet Member for Sustainable Transport, Environment and Clean Air, said: "Bees, butterflies and moths all play a crucial environmental role as pollinators.
"So, ending the use of glyphosate helps conserve these pollinators and reflects the commitment we've made as a council to consider their needs, while complementing other projects as set out in our Pollinator Action Plan."
Lambeth Council has committed to helping to conserve the UK's pollinators by ensuring the council will consider their needs in the delivery of its duties and work.
Our native pollinators include bees, butterflies and beetles and they all help with the pollination of our native wild plants and food crops. Insect pollination is extremely important to the UK economy, with an estimated value of £691million a year.
Without pollinators we would struggle to grow many of our vegetables, fruits and other crops, and a decline in their numbers has already had an impact.
The council has also pledged to protect and enhance the amount and quality of pollinator habitat and manage our green spaces to provide greater benefits for them.
To read the borough's full Pollinator Action Plan visit lambeth.gov.uk.