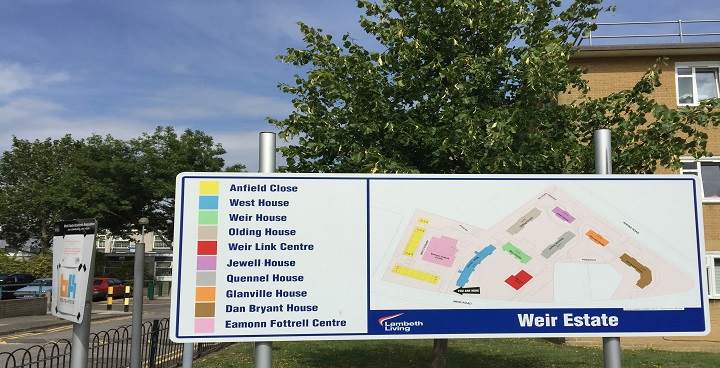 LHS contractors have completed work to renew the communal lighting and lateral mains in Clapham's Weir estate. Resident's Association chair Stephen C tells us about the work from the customer's point of view.
Brightest and best
"I'm not a qualified electrician but I do work in the building trade and I know how old those cloth-covered electrical cables looked. What we have now uses LED lights that will last longer. It should save lots of money on callouts for repair, and it's much better, it feels safer. Now we've got emergency lighting  – we never used to have that. If there was a fire it would have been dangerous on the stairs.
Right site
"I've been working with NRT the contractors since they first contacted us to agree with residents where the site office should go. On previous LHS works, like when they replaced our windows, contractors have taken up the whole of our car park – this time they agreed it makes more sense to put the site office here,  only using up 8 parking spaces.
Getting the message
"We got letters to say what was happening at every stage of the process. When they needed to get in to wire people's homes up, they gave us plenty of notice. When the switchover was coming we all got letters saying  'If we can't get access to your home you run the risk of being without power' in big red letters.
Considerate contractors
"The workers were always polite. They were happy to do things like move things out of the way for people with pushchairs to get into the blocks. One day there were a couple of new ones on the site who didn't clean up after themselves. I spoke to Mark the site manager and it was done, and never happened again."
"As the Residents Association Chair, my neighbours expect me to be quick to email if there are any problems with cleaning or parking enforcement – it's good to have this opportunity to say something so positive."
————————————————————————————————————————————–
Since 2012, Lambeth Council has invested over £400 million in works to make sure homes meet the Lambeth Housing Standard agreed with residents. £70 million of works are planned for 2017-18.  For details of the planned programme in the North, Central and South Areas of the Borough, see