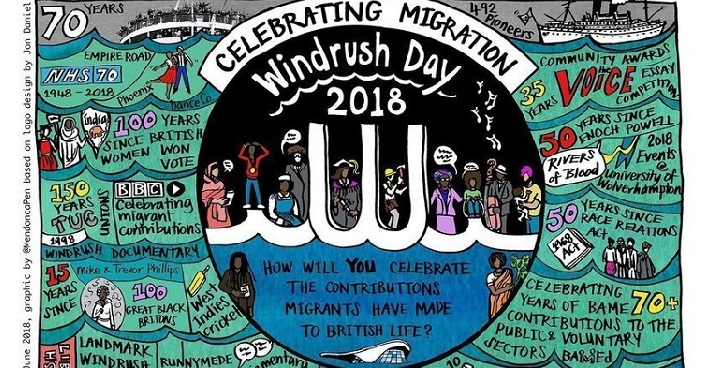 Lambeth Councillors are among those backing a petition asking the Royal Mail to issue a new special stamp to commemorate the 70th anniversary of the arrival of MV Empire Windrush. The petition was launched by Patrick Vernon OBE, campaigner for Windrush Day and Director of Brixton-based Black Thrive, the health and wellbeing support project for the African and Caribbean community in Lambeth.
Iconic image
Patrick says: "The image of the Windrush was voted by the public as one of the 100 most iconic symbols of British history in 2011.  The ship was part of the 2012 London Olympics opening Ceremony. There is a growing campaign to have Windrush Day as a national holiday to celebrate the contribution of migrant communities and cultural diversity.
Celebrating the impact of Windrush
"Much of British society today would be unrecognisable without the integration and contribution of generations of migrant communities: language, literature, enterprise, public life and public service, fashion, music, politics, science, culture, food, and even humour."
Word from the Cabinet
Cllr. Lib Peck, Leader of Lambeth Council, said:
"The arrival of the Empire Windrush marked the start of the transformation of the UK into a diverse, multi-cultural society. Many of the men and women who made the voyage settled in Lambeth and the Windrush Generation have made an enormous contribution to our borough, helping to make it the open, tolerant and outward-looking place it is today. A new commemorative stamp would be a fitting way of marking the 70th anniversary of the Windrush."
A symbol of Britain
Patrick says: "All of us – whether we are Windrush immigrants, their children and grandchildren, or we trace our family histories back to much earlier arrivals in Britain – have a responsibility to uphold a positive vision of multi-ethnic and multi-faith Britain as a shared society which is welcoming, just and fair to all. The arrival of the MV Empire Windrush at Tilbury Docks is a chance to reach across our many different ethnic, faith and family heritages, to reject prejudice and intolerance, and to shape a fair and inclusive future that we all want to share.
Living recognition
"That is why we ask the Royal Mail to recognise the 70th anniversary of the Windrush in a commemorative stamp. Their current policy only recognises anniversaries of 50, 100 or 150 years. There was no commemorative stamp in 1998 for the 50th anniversary and this would mean no stamp until 2048 – denying many living people recognition."
---
For more information
To support the petition sign up on the change.org web portal
For more information about Black Thrive partnership for Black wellbeing see their news and information pages
Find out more about the MV Windrush and the generation of Caribbean people who came to Lambeth to make a new home: visit the news and information pages at the Black Cultural Archive.