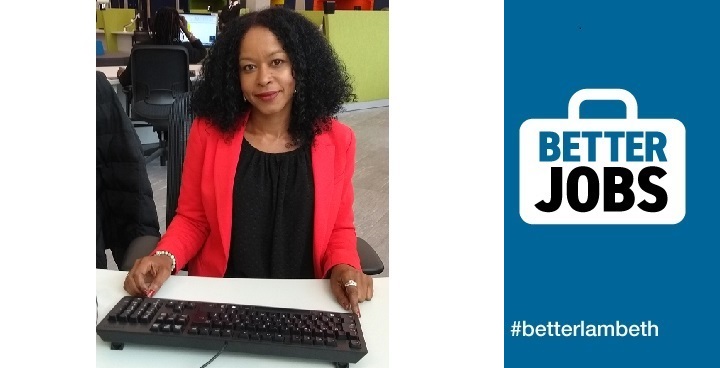 Workwise – the partnership between St Mungo's homelessness charity and Lambeth Council's Housing Management – supports tenants who risk losing their home through welfare reform. 1-2-1 support equips people with knowledge and confidence to find work and manage income gaps linked to benefits or Universal Credit.
Year 3 in numbers
Workwise's third year in Lambeth (2017-18) helped:
68 tenants find full-time work, 22 part-time work, and 13 volunteering positions
13 work placements & 53 places on education/training courses
30 qualifications gained (more expected)
90 households improve their income
Dawn's story
Dawn had 20 years' experience working in Housing – from filing clerk to senior property manager – before losing her job through illness. For the last three months she has worked part-time in Lambeth Council's Income Team, with support from Workwise to find a job that gives her time to study and to get ready to start her own business.
Listening skills
"Workwise were great at communicating. The fact that they listened, and didn't try to push me into working full-time, was refreshingly different. Other agencies asked 'Why do you need to study'? I don't 'need' to study – but after the illness I do want and need to plan my life rather than just floating through it. I'm studying the Level 3 Award in Teaching and Education so I can teach my creative skills to others.
Interview styles
"I feel that Lambeth really appreciate the skills and experience I bring to this role. Workwise put me in touch with a charity that find you the right outfit for job interviews and boost your confidence. They had different styles for informal and formal interviews.
Designs for the future
"When I was ill, all my usual creative outlets – knitting, sewing, designing cards for people – weren't giving me any stress relief. I found a jewellery toolset and since then I've won competitions and had my jewellery designs featured on television. St Mungo's are planning a pop-up shop and have asked me to participate. They are also helping me with business coaching and a business plan for my own jewellery business."
---
For more information
For more about St Mungo's and their work of ending homelessness and rebuilding lives, see their news and information pages