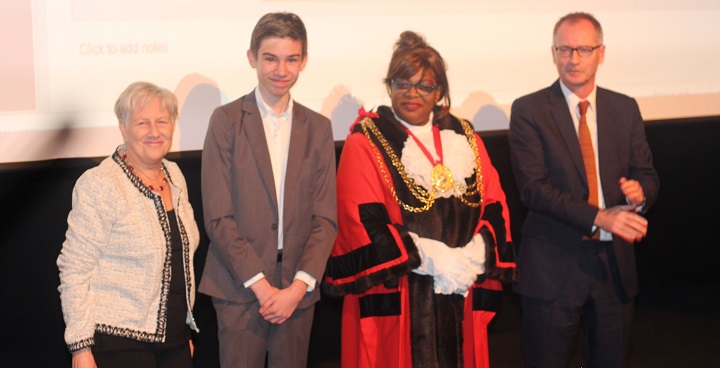 Each local authority has a legal requirement to ensure that young people are involved in decision-making that affects their lives. Lambeth Youth Council (LYC) is the group of young people elected to carry out this role. The Lambeth Youth Mayor leads Lambeth Youth Council and The Lambeth Member of Youth Parliament (MYP) is the national representative of local young people in the UK Houses of Parliament. Elected representatives serve a two-year term.
Youth Elections
The Youth Elections give 11-19 year olds the power to vote for their representatives. 19 schools in the borough took part in the 2018 elections, receiving booklets with candidates' manifesto pledges. Some organised internal hustings to allow the student body to get behind their chosen representative. There were 9 candidates for Youth Mayor and 5 for election as the Member of Youth Parliament.
The results
With over 8,330 ballot papers issued, the results were announced on Monday 26 February at an event at Stockwell Playhouse with guest speakers Councillor Marcia Cameron, Lambeth's Mayor, and Cllr Jane Pickard, Cabinet Member for Families and Young People.
Word from the Cabinet
Cllr Pickard said: "It's great to see such enthusiasm from so many young people grasping the opportunity to change things for the better. Having met youth council members and seen their election statements, I am confident that they will bring energy and determination to their role during their term of office and find ways to help improve the life chances of other young people in Lambeth."
New Youth Mayor
The newly elected Youth Mayor, Luca Emery, received over 900 votes. His election manifesto included the environment: "It is our generation's duty to raise awareness and make change happen, as it is the future of the planet that we will oversee that is jeopardised. My agenda includes encouraging schools to form a linked network to improve our local environment". Eugene Panton was elected as his deputy.
Lambeth's new MYP
Jamal Simon received over 1,000 votes to be voted in as MYP. "I believe in really increasing youth democracy and participation in the political process. I've spent the last year as a member of the Youth Council working to improve youth democracy and engagement through the Lambeth Model United Nations conference." Monsurat Sadiku is his elected Deputy. Internal elections will select the Chair of the Lambeth Youth Council and new Cabinet members.
---
For more information