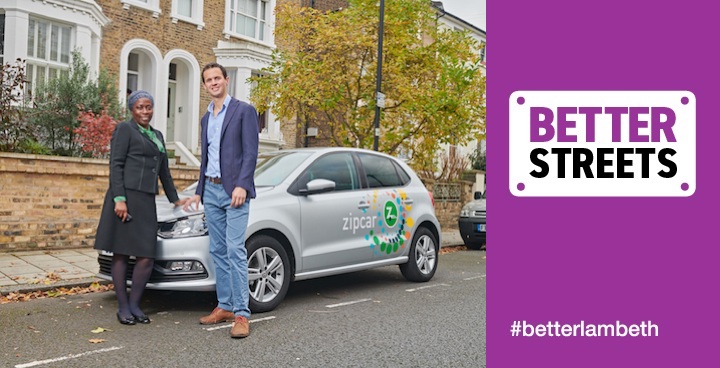 Flex allows members to spontaneously jump into a car and drive to a destination one-way, ending their trip by dropping the car off in any one of thousands of approved parking bays in the capital. Currently the scheme is available in Wandsworth, Merton, Hackney, Islington, Lewisham and parts of Southwark, with more London boroughs signing up to the scheme every month.
This launch is in line with the Mayor of London's new Transport Strategy, which has announced long-term plans to reduce the capital's so-called "car dependency".
'More choice'
Jonathan Hampson, General Manager, Zipcar UK, commented: "This is something that our members have asked us for and we're proud to bring Flex to the borough of Lambeth, where many residents already use Zipcar. This launch marks another important development in London's changing relationship with the car and moves us one step closer to our vision of a city where car sharers outnumber car owners.
"We believe that our new Flex service gives Londoners more choices, makes the switch from car ownership to 'car sharership' easier and has the power to redefine urban mobility in a sustainable way that will allow our amazing city to continue to grow and thrive."
Word from the Cabinet
Cllr Jennifer Brathwaite, Lambeth Cabinet Member for Environment & Housing, said: "Here in Lambeth we are dedicated to improving air quality and creating healthier streets.  Part of that is a clear commitment to help people reduce car usage, which is why this launch is so important to us. If we want residents to consider getting rid of their cars we need a scheme that works for them financially and fits in with their lives, and I believe Zipcar Flex does just that."
Available to Zipcar members through the new Zipcar UK app, Flex complements Zipcar's original Roundtrip service, which operates from dedicated on-street Car Club Only bays all across the city so Londoners pick up and drop off a Zipcar in the same location.

Key benefits of Flex
Money saving, as members only pay for the exact time they drive, meaning they can travel one-way, spend a few hours at a destination and then book another car to head home
Flexible and convenient, fitting in with people's needs and how they want to get around the capital and lessening the need to own a car
Addresses worsening issues of air quality and congestion by getting privately owned cars off the capital's roads
Key Flex features
A mix of automatic and manual transmission petrol Volkswagen Polos to suit drivers' preferences
No additional membership cost for existing Zipcar UK members
Drive – for just 29p per minute
Drop – in any of the thousands of approved parking spaces across the Zipzone
Do – whatever you want, this really is "wheels when you want them"
For more information on how Islington residents can sign up and/or download the new app please visit Zipcar website.