Clapham Common Bandstand summer concerts
Clapham Common Management Advisory Committee (CCMAC) is pleased to announce the 2018 Bandstand programme of free music concerts on Clapham Common.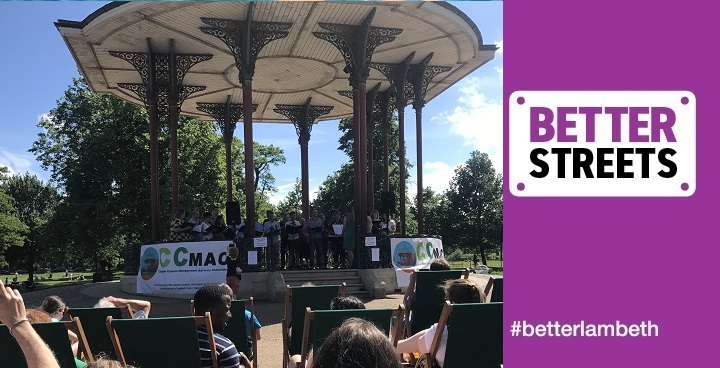 Concerts on Clapham Common bandstand aim to provide 'something for everyone', reflecting the diverse community in which we all live. The programme is funded by a grant from Lambeth Council and is put together by CCMAC, the community representative group working with the Council to manage Clapham Common.
A stage for all
The concerts are an opportunity to showcase local acts and performers to a home crowd. Expect singing, dancing and lots of music for all tastes.
A place to enjoy
All concerts are free to everyone and take place at the Bandstand:
Saturday 9 June – CCMAC's Common People created by Bandstand Beds with Family Cycle Extravaganza – eclectic and diverse, a celebration of local talent – 12 noon – 5pm
Saturday 16 June – Oxjam Clapham – up-and-coming contemporary acts supporting charity – 12 noon to 5pm
Saturday 23 June – Fuzion Four – 2 to 4pm – saxophone, piano, cello and cajon
Saturday 7 July – Lambeth Wind Orchestra – 2pm to 4pm
Sunday 15 July – Folk music festival – celebrating music drawn from London's multi-ethnic communities – 12 noon to 5pm
Saturday 18 August – Wandsworth Oasis/LGBTQ+ Wandsworth – LGBT acts in partnership with the Clapham Grand – 12 noon to 5pm
Sunday 2 September – Junction Jazz – 2pm to 4pm
Sunday 9 September – Crystal Palace Band – 3pm to 5pm – traditional brass band
Sunday 23 September – Clapham Community Choir organised by the Clapham Society – 2pm to 4pm
---
For more information
See the news page for Clapham Common Management Advisory Committee
Follow CCMAC on Twitter
If you want to perform next year please email CCMAC
You might also like