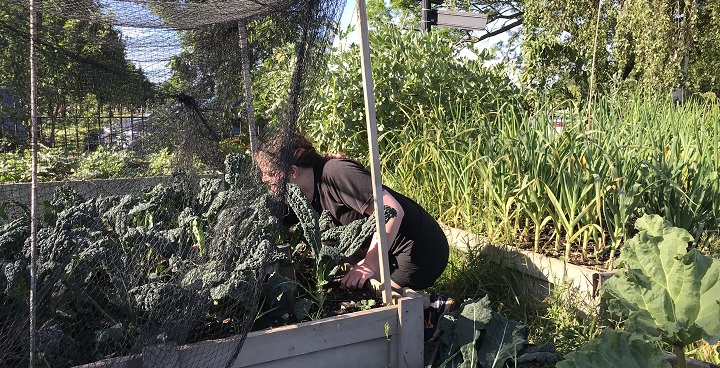 Clapham Common's Bandstand Beds has been inspiring people in Lambeth to grow vegetables for community connection and healthy eating for seven years now. Even though the community can't garden together as usual, and regular events like laidback lunches with freshly harvested vegetables are on hold, the garden itself definitely hasn't stopped growing.
Grow in safety
Bandstand's David Dandridge says: ""Everything's ticking over nicely and looking amazing. Lots of people stop at the garden gate to peer and admire all the lush growth. People come over to do some gardening as their daily exercise, including Lambeth councillors coming to water plants. It's a pretty big site so it's possible for someone to work on one of the beds while I'm sowing seeds in the polytunnel. We're making a point of not sharing tools – if you take a spade or fork out of the store, you sanitise it or mark it not to be touched for a week. We have a pink n the Council advised us to get for events last year, so we can wash with warm water.
Pop-up plants
"We usually have a plant stall just inside the gate, but instead we've been delivering plants to a nearby shop – keeping them supplied in return for a donation. Lots of gardeners found it hard this season to find seeds, seedlings and plants, missing out on growing their own food. We.ve supplied plants for the Clapham Manor street beds and promised some to Oakland Estate to get them started on an 'edible living' project. In another week or two, as well as Cavolo Nero and leaf salad, our broad beans will be ready and our onions and shallots, too. As the nights warm up things will really take off, so we'll start up our midweek harvesting as well as Saturdays.
Plants for gardeners
"Bandstand now has lots of plants in the polytunnel, so if you fancy dropping by the garden to make a donation, you can take away tomatoes – including some quite unusual tigerella and green zebra ones – cucumbers and courgettes. Of course we observe social distancing at all times, and you can make a donation for plants using our contactless bankcard reader."
For more information