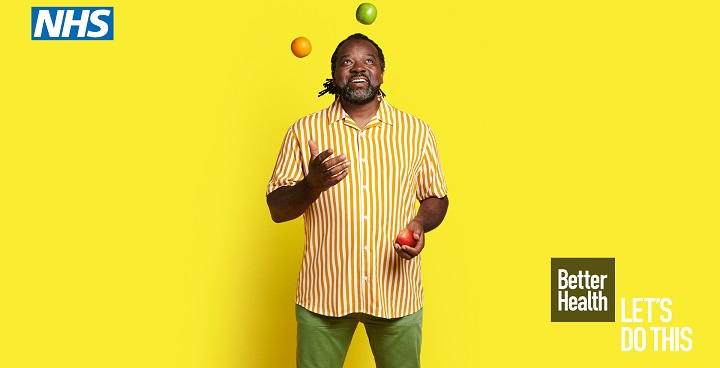 The COVID-19 pandemic has shone a light on the UK's health, with many people realising how precious their health is and wanting to get their weight and fitness back on track. Lambeth Public Health supports the Government's Better Health campaign – helping adults of any age reset their lives starting with a few healthy changes.
Tools and apps
Better Health helps you seize this opportunity as part of a national mood. On the website you'll find easy-to-use tools and apps helping you make healthier food choices, get physically active and prevent weight gain. These include the NHS 12-week weight loss plan, personalised and tailored to your individual goals and needs.
Better Health in Lambeth
More than half the adults in Lambeth are overweight or obese and there are high levels of weight-related diseases, including diabetes and cardiovascular disease. Scientific evidence shows overweight people infected with COVID-19 are significantly more likely to become seriously ill and need intensive care in hospital than those with a healthy BMI (body mass index). Lambeth has a range of health and lifestyle services to support you towards Better Health.
Healthy weight management – helping you boost your physical activity and healthy eating levels
Social prescribing – individualised support for health and wellbeing issues that matters to you.
Stopping smoking – behavioural support and medication from a local community pharmacy or the Lambeth specialist team.
NHS Health check – a specialist will complete some simple tests and questions about your family history and lifestyle habits and recommend tailored steps to maintain or improve your health.
So, what are you waiting for? Your journey to Better Health starts now – let's do this.
Word from the Cabinet
Cllr Danny Adilypour, lambeth Council Cabinet Member for Health, said: "Covid-19 has impacted on all of our lives and also made it more important than ever that we look after our health, change our habits and do things differently. Lambeth's health partnerships, GPs, pharmacies and other services are here to give people free support to lose weight. If you want to improve your health in other ways too, they can also help you to quit smoking, drink less or look after your mental health."
More information
Visit Lambeth's 'Your Health' web page for information and advice on food, physical activity, stopping smoking and more – including local community-based resources and services.
The national Better Health webpage includes tools to help manage weight loss – checking your BMI, free support including the NHS 12-week weight loss plan, the Couch to 5K app and the NHS Diabetes Prevention Programme. There's advice in a magazine format giving you the power to keep track of calories, fruit and veg portions, physical activity level and skills to prevent weight gain.