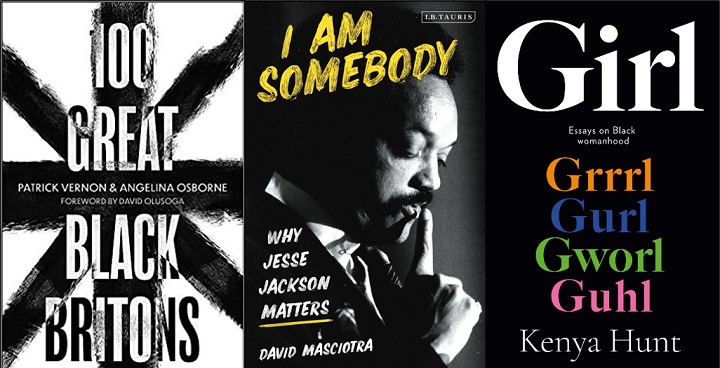 Black History Month events continue into November with free online author talks and book groups, and bookable viewing of exhibitions in Lambeth's libraries.
Events
'The Space Between Black and White' Join author Esuantsiwa Jane Goldsmith for a Q&A on her 'story of self-discovery for a mixed-race woman finding her place in the world'. Tuesday 10

November, 7pm via Eventbrite

100 Great Black Britons Patrick Vernon's 2003 landmark 100 Great Black Britons campaign was one of the most successful movements to counter the exclusion of the Black British community from 'history'. Black historical figures were included on the national school curriculum, with statues, memorials and blue plaques in their honour. Patrick and Angelina Osborne have relaunched the campaign to include new role models. Thursday 12 November, 7pm via Eventbrite
Brixton Radical Reads Join the book group discussing Mikki Kendall's Hood Feminism: Notes from the Women that White Feminists Forgot, Friday 13 November, 7pm via Eventbrite (For a copy of the book contact the library 020 7926 1056).
I Am Somebody: Why Jesse Jackson Matters Few recent leaders have greater social and political consequence than Jesse Jackson, and few more relevance for America's current political climate. Author David Masciotra argues – based on over 100 interviews – for Jackson's legacy to be rehabilitated in the hope of inspiring a new generation of committed advocates of racial and economic justice. Join David in conversation from the USA. Tuesday 17 November, 7pm via Eventbrite
GIRL: Essays on womanhood and belonging in the age of Black girl magic Join Award-winning journalist and 'American in London' Kenya Hunt to discuss Girl, her provocative, heartbreaking and frequently hilarious collection of essays on being black, a woman, a mother and a global citizen in today's ever-changing world. Wednesday 18 November, 7pm via Eventbrite
Black Writers Challenge
Have you read any black writers this year? Like to discover new writing and authors on Twitter? Follow @LamLibs and join the conversation using hashtag #BlackWritersChallenge @BHMLambeth.
Exhibitions
Windrush: Portrait of a Generation – A photo-story by Jim Grover Thursday 1 October to December 2020 Brixton Library. Book a free slot to view the exhibition: 020 7926 1058. For further information online: Twitter/Instagram: @jimgroverphoto
 Black Lives Matter: Signs and placards from a summer of protest Monday 5 October to Thursday 31 December Minet Library. 11am to 4pm Monday to Saturday. Viewing by appointment only. Book 0207 926 6073 email minetlibrary@lambeth.gov.uk. Do you want to donate a sign or other BLM content? Contact Lambeth Archives archives@lambeth.gov.uk
More information
Black History Month on Lambeth Council website