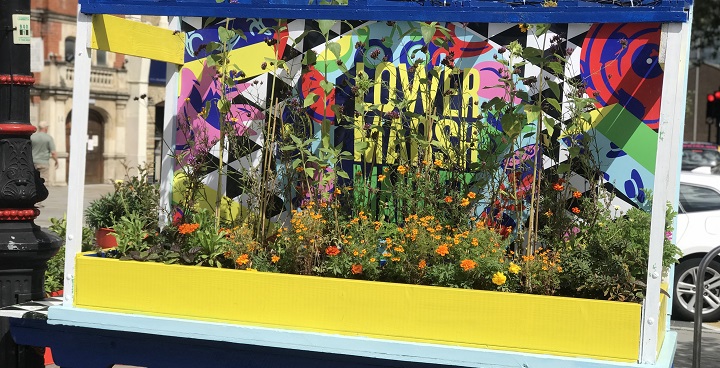 On the evening of 17 November, Cllr Philip Normal, Mayor of Lambeth, introduced this year's Blooming Lambeth Awards to a live Zoom audience. 2020's updated categories reflect how Covid-19 has changed gardening. Three of the seven winners were chosen by online public vote, and the Awards recognised highly commended gardeners as well as outright winners.
Ivor Picardo Award
The award for most abundant vegetable patch honours Lambeth Council's 'edible living' champion and his passion for inspiring communities to grow food on estates. Winner is Alison Jones, Southwell Road Community Garden a green oasis where residents grow flowers, fruit and vegetables.
Gardening Against the odds
Catherine Raitt formed Palace Road Estate gardening group, working with Lambeth contractors Pinnacle to create raised beds, and get an orchard planted – growing food and boosting biodiversity.
Get creative
During lockdown, people shielding or being shielded on Caldwell Estate used the time to create new forms in their communal garden, winning this new award celebrating art inspired by nature and gardening in Lambeth.
School Garden
2020's winner is Sudbourne Primary School.  Seedlings grown from Incredible Edible Lambeth seeds were handed out to parents at the school gate, encouraging food growing.
Most imaginative container or growing space
The public vote for best upcycled, decorated, or home-made container went to Edible marsh at Lower Marsh, a traditional 1950s market stall transformed into a market garden.
My Lockdown Garden
New award for 2020, with Miriam Thripp's little L-garden filled with colour and variety – including sunflowers over 8ft tall – bringing joy to all who pass and standing out among imaginative 'highly commended' entries.
Above and Beyond
This award is for community growing spaces sharing seedlings or produce for the community. With four more projects highly commended, joint winners were Kathy Jones and Loughborough Park Community Garden. Kathy grew seedlings at home in biodegradable paper pots or recycled tetrapak cartons, a giveaway giving the local area a chance to grow, even on indoor windowsills.  At Loughborough Park Bobby and 28 volunteers grew and gave vegetables and 750 plants to local homes.
For more information
Incredible Edible Lambeth (IEL) partners with Lambeth Council to recognise the amazing gardeners and gardens in the annual Blooming Lambeth Awards. Their vison is to:
support a local food economy that thrives, employs local people and keeps money in Lambeth.
teach young and old how to grow food, with the lifeskills to feed themselves and the health and wellbeing advantages of getting outdoors.
encourage people to find local potential food growing spaces.
Photos courtesy of Incredible Edible Lambeth