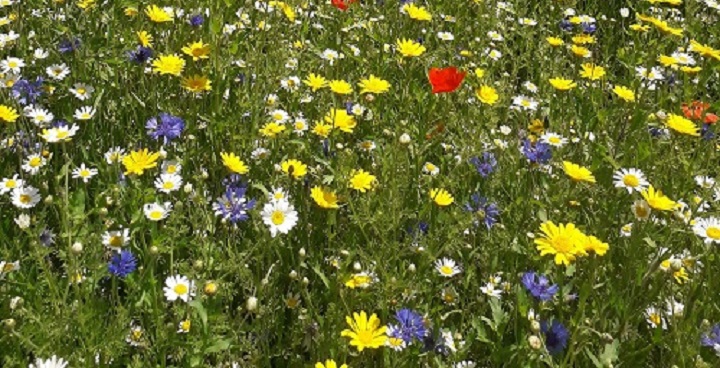 Brockwell Park's fresh wildflower meadow was created from an outdated sports area, ploughed by horses from Operation Centaur and created by TCV (The Conservation Volunteers), with visitors stopping to see tradition at work in London – and now stopping to admire the wild flowers.
Natural attraction
Wildflowers are just one project boosting Brockwell's biodiversity and appeal to people and wildlife. Most result from a partnership between Lambeth Council's parks team and local businesses, landlords, residents and more.
Planting changes
Ann Kingsbury of Brockwell Park Community Partners (BPCP) explains more: "There's another wildflower garden, on a slope by the Lido, where we've changed from annuals to herbaceous perennial plants – it's more sustainable and attracts different insects to pollinate other flowers and trees.
Leave it wild for wildlife
"We have the grass cut less often in places, creating a wild plant space that's home to rare stag beetles.  We've created an area for sparrows, who are in decline in London. We have a 'dead hedge' behind the laid hedge. It's a superhighway for insects and hedgehogs."
Making the big pond a great pond
BPCP's Susy Hogarth adds: "The plan we want to start on next is the re-wilding of the big pond. There aren't enough nest sites for the ducks and swans, there aren't enough invertebrates in the water. The plan is to move the reed bed and create a mini-Wetlands. We want schools to come and dip for frogs, look for newts under stones, and benefit from an outdoor classroom."
Site of natural interest
Ann sums up "The park is already a borough site of nature conservation importance. Our aim is to have Brockwell Park recognised as a metropolitan site within the next ten years."
Award-winning park
Brockwell Park was recently judged by Keep Britain Tidy's 'Green Flag' awards scheme and once again been selected as one of the UK's best open spaces for visitors, securing not just a prestigious Green Flag Award but also a Green Heritage Award. The park was also recently judged for 'London in Bloom' in the large park, heritage park and walled garden categories.
Word from the Cabinet
Councillor Sonia Winifred, Lambeth's Cabinet Member for Equalities and Culture, said "I'm absolutely thrilled that we've again secured a Green Flag for the Park and also retained a Green Heritage Award. This is recognition from national and international judges  of how the partnership between the Council and a caring community protects the Park's rich history  while creating new ways to make it accessible to present and future generations."
For more information
For more about Lambeth's Green Flag parks, see the Council's news pages