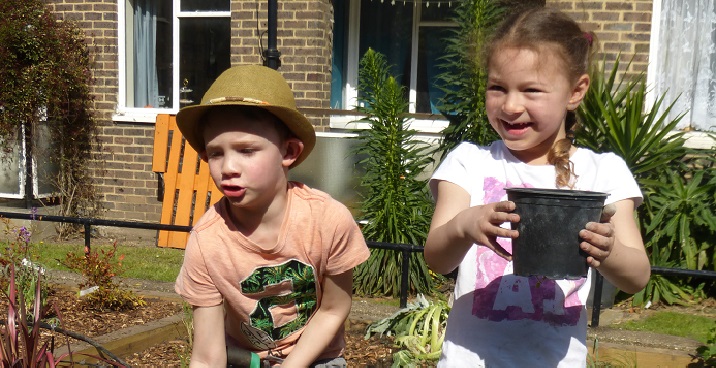 A Wednesday Walkabout with Housing Management and a TRA Network meeting gave residents the chance to share ideas about Caldwell Gardens. The result is big changes – an outdoor gym and a new communal garden – in place. We talked to the TRA's Michael Turner (Chair) and Georgina Schueller (Secretary)
Community minded
"Having no communal hall, and an estate divided and surrounded by busy roads, are huge challenges for the TRA. Improving our communal areas with quality developments is key to trying to increase communal activity. We've already seen people using the outdoor gym, and a community planting day has brought families and neighbours together.
From stop to grow
"Many years ago, before coming back under Lambeth Council management, ugly bars had been erected, carving up the courtyard space to prevent football being played. Urban Growth recycled some of these to make a pergola for climbing plants. They really thought carefully about the planting scheme, to include sensory elements – scent, colour, shape, and texture,  giving year-round interest. We really wanted plants that encouraged biodiversity. We'd love to get involved in outdoor learning.
Include food
"There's food growing mixed in – chard, lettuce, herbs, gooseberries and apples. The garden area is focused here because it gets great sun and the new watering system makes it easier to maintain. We want these spaces to bring people together. Posters were put up and invitations posted through everyone's letterboxes a week before planting. People often come out on their balconies to talk when we water the garden, and new people have joined us. Gardening's always on the TRA's agenda.
Fun day in the sun
Comments included "Great to see life brought back to the square. The children loved getting stuck in." "We will enjoy it when we see everything is growing." And (from someone especially excited about the gooseberry bushes) "Great Jam".
The future's bright…
"Next steps? Fortnightly Edible Living food growing learning sessions start Monday 8 May from 4-6pm . Seating is built into the planters, and we'd like to get a picnic table here to make it a more social space. Let's inspire people to plant their own gardens and balconies. Maybe we'll start planting around the gym and the children's playground too.
"We've achieved big changes for our community, and we'd like more people to benefit."
---