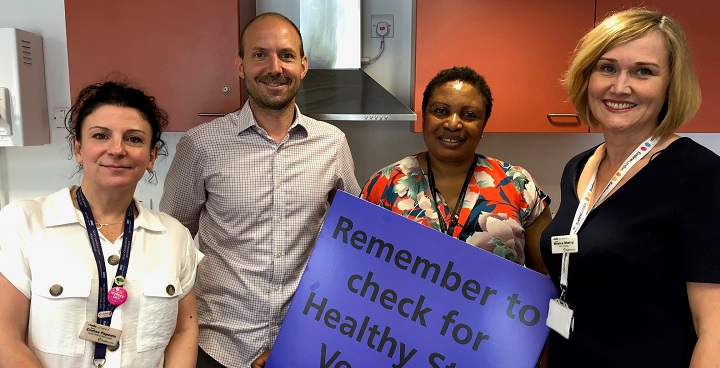 Healthy Start Vouchers can be spent on fruit, vegetables, milk and baby formula. The weekly vouchers are for pregnant women who are under-18, on low-incomes and families with young children on benefits and tax credits. Recipients are also entitled to free vitamin supplements.
From today Lambeth has become the first borough to start putting reminder stickers about the scheme into every Personal Child Health Record, also known as the 'red book'. This book is given to all parents and carers when a child is born.
Word from the Cabinet
Cllr Edward Davie, Lambeth's Cabinet Member for Health and Adult Social Care, said: "We all know that making sure pregnant women and new born babies get their nutrition right is so important when it comes to getting a healthy start in life.
"Healthy Start Vouchers offer a big helping hand in achieving that goal, and I'd encourage as many people as possible to take advantage. The sad fact is that too many people in Lambeth who are entitled to these vouchers are missing out.
"We hope that our local initiative will help address that, and I'd ask that we work as a community to spread the message about healthy start vouchers and get as many people as possible opting in."
Vouchers
Pregnant women can get one voucher a week – and each one is worth £3.10. Families can get two of the vouchers per week for every baby they have who is under 12-months-old. For every child who is under-4 in the family one voucher per week is also available.
Monica Sherry, Head of Nursing and Universal Children Services at Evelina London, said: "Every child deserves the best start in life, this scheme will help to give families extra support to access fruit, vegetables and milk. We're keen to make sure families don't miss their opportunity to collect the vouchers."
Children, their parents and their guardians gathered at the Akerman Health Centre in Patmos Road, Stockwell on Wednesday to find out more about the Healthy Start Vouchers and the advantages on offer.
Applying for Healthy Start is easy, if you already have an application leaflet just fill out the form inside, ask your midwife or health visitor to sign it and send it using the freepost envelope. If you don't have an application form you can find one at: www.healthystart.nhs.uk