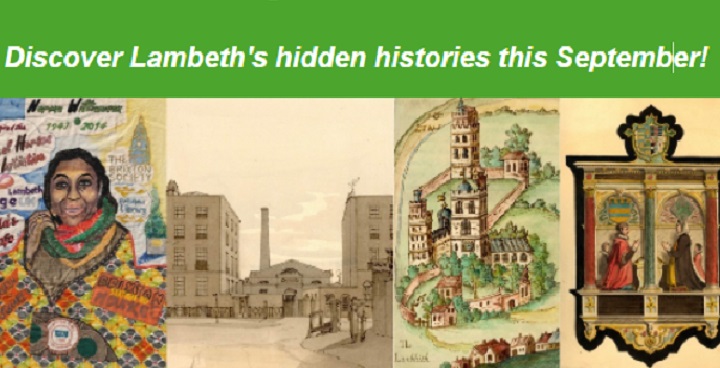 Lambeth Archives and the Lambeth Local History Forums and other partners have created another amazing annual showcase to celebrate the extraordinarily diverse history of our borough, and some of the best things taking place in Lambeth today.
Innovations in history
This year, alongside a wide range of more traditional history, the Heritage Festival includes Lambeth's first Muslim history walk; events hosted by the Polish Heritage Project; and a great selection of Black history events put together by 81 Acts of Exuberant Defiance and  other organisers. There are talks,  films, exhibitions, walks and workshops covering a whole spread of interests: tours of John's Waterloo, Brixton Windmill, Henry Tate's gardens in Streatham, West Norwood cemetery and the Conyers Road pumping station; guided walks uncovering less familiar histories: Clapham's links with slavery, the story of Stockwell Green, or the herbal heritage of Kennington.
Word from the Cabinet
Cllr Sonia Winifred, Lambeth Council Cabinet Member for Equalities and Culture, said: "I am delighted to welcome you to the Lambeth Heritage Festival, now in its ninth year, taking place throughout September. After last year's online-only festival I am certainly looking forward to getting out and attending some actual events. But for those who still need to shield or who live too far away, there will be plenty of online events to enjoy as well.
"Preserving and promoting our heritage to help connect local people with opportunities and to address challenges in Lambeth today is something that I am passionate about, to put together such a rich and innovative programme. It should offer something for everyone, and it clearly reflects our diverse community here in Lambeth."
Heritage highlights
Don't miss the Lambeth Local History Fair at St Mark's church Kennington, on Saturday 4  September. There are also opportunities to get reduced entry to some of Lambeth's museums, like the open afternoons at the Florence Nightingale Museum, and the special exhibition at Van Gogh House.
Explore the programme