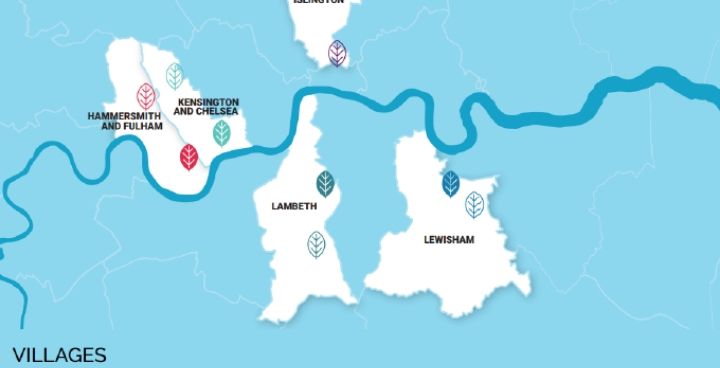 In London, almost half of pollution stems from road transport, and a third of this comes from freight vehicles, such as vans and trucks. In 2018, the Defra-funded "Clean Air Villages" project was launched, with the aim to engage with businesses, schools and organisations across 5 boroughs to reduce emissions from deliveries of goods and services. The projects are delivered by the Cross River Partnership.
The projects
During phase 1 of the project, which ran from March 2018 to April 2019, 20 seminars were held, with 119 businesses engaging with presentations, workshops and 1-2-1 sessions. Following the engagement, 10 local solutions were developed to help businesses reduce emissions from deliveries. These solutions included:
business sharing suppliers,
sharing electric vans and cargo bikes,
These solutions are transferable so best practices can be replicated across London.
Phase 2 of the project started in April 2019 and will run until March 2020. Phase 2 aims to find new solutions to reduce emissions by engaging 90 businesses via 1-2-1 meetings and by delivering 13 workshops and seminars, in 13 air quality hotspots across 7 London Boroughs.
Update: September 2019. The Ultra-Low Emissions Supplier Directory is now live! A unique catalogue of local businesses who are using low/zero polluting transport methods for their deliveries and services. Check out the suppliers operating in Brixton and Streatham, support their services, and help to reduce harmful air pollution on our streets. If you have a business and the majority of your deliveries are made via foot, cargo bike, and electric or hybrid-petrol vehicle, please get in touch with Cross River Partnership for your chance to join the growing low emissions community on the ULES directory.
Taking the lead
As the lead authority for phase 1, Lambeth actively encouraged its businesses and local organisations to participate in the project. InStreatham BID and Balfe's Bike came together to run a shared e-cargo bike service, to enable free deliveries to local business, reduce emissions and encourage active travel among employees.
Independent of the clean air villages project, Brixton butchers came together to consolidate deliveries, to tackle congestion and idling, and to realise financial savings. This enabled them to achieve:
55% reduction in the number of meat vans delivering to Electric Avenue
8-10% saving in product costs following consolidation
55% reduction of PM2.5 and 61% of NOx reduction
1,587kg CO2 emissions saving
---
More information
For more information on Clean Air Villages 2 visit the Cross River Partnership website.