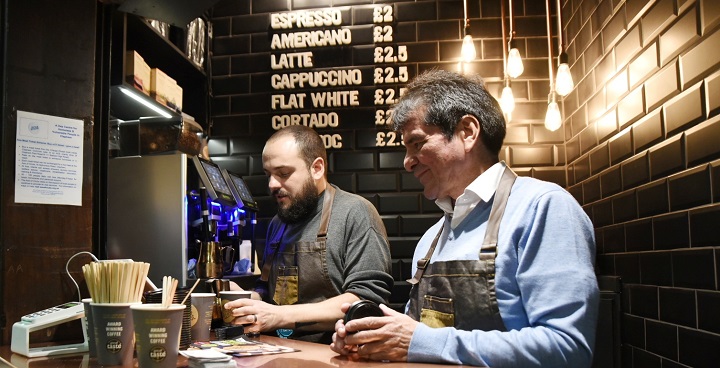 Lambeth is home to the first of a planned network of coffee kiosks on London stations helping homeless people find work. Clapham's Ace of Clubs Centre for the Homeless and Vulnerable teamed up with social enterprise Change Please to help staff their first London Underground coffee kiosk.
Official opening
Local supporter and celebrity, Michelin starred chef Michel Roux Jnr, officially opened the Clapham Common underground kiosk, being served coffee by trainee barista Marco before visiting Ace of Clubs. He said: "It is heartening how the community can work together to offer support and friendship to those facing homelessness."
Trained and transformed
Marco says his life has been transformed via barista training: "A very sad change in family circumstances forced me into insecure accommodation and joblessness – my prospects did not look good.  Now I have a proper wage and see a future. The support I found at Ace, and job at Change Please has given me a new chance!"
Action in stations
Following the opening in Clapham, Change Please plans to open kiosks across the London underground network and in partnership with TfL provide more training for homeless people to become baristas.
For more information  
Clapham's Change Please coffee kiosk will stock Ace meal vouchers, which supporters can buy for £1, and give to people begging in Clapham. The vouchers are redeemable at Ace for a hot meal and the chance to link in with support services.
Change Please is a social enterprise based on the mission 'Award winning coffee helping the homeless'. All profits go to help more people work their way out of homelessness. To support Change Please to train baristas, you can vote in the Aviva Community Fund.
Change Please coffee beans are Rainforest Alliance accredited, protecting the environment and rights of farmers. Cups are also 100 per cent compostable. See their information pages
Ace of Clubs has provided transformative support for homeless, vulnerable and marginalised people for over 22 years. Last year Ace provided 20,000 meals, and helps between 80 to 100 people daily. Once their immediate needs – hot meals, showers, clothing, laundry facilities and crucially friendship – are met, clients are linked in with welfare, rehab services, healthcare and training opportunities. See their information pages