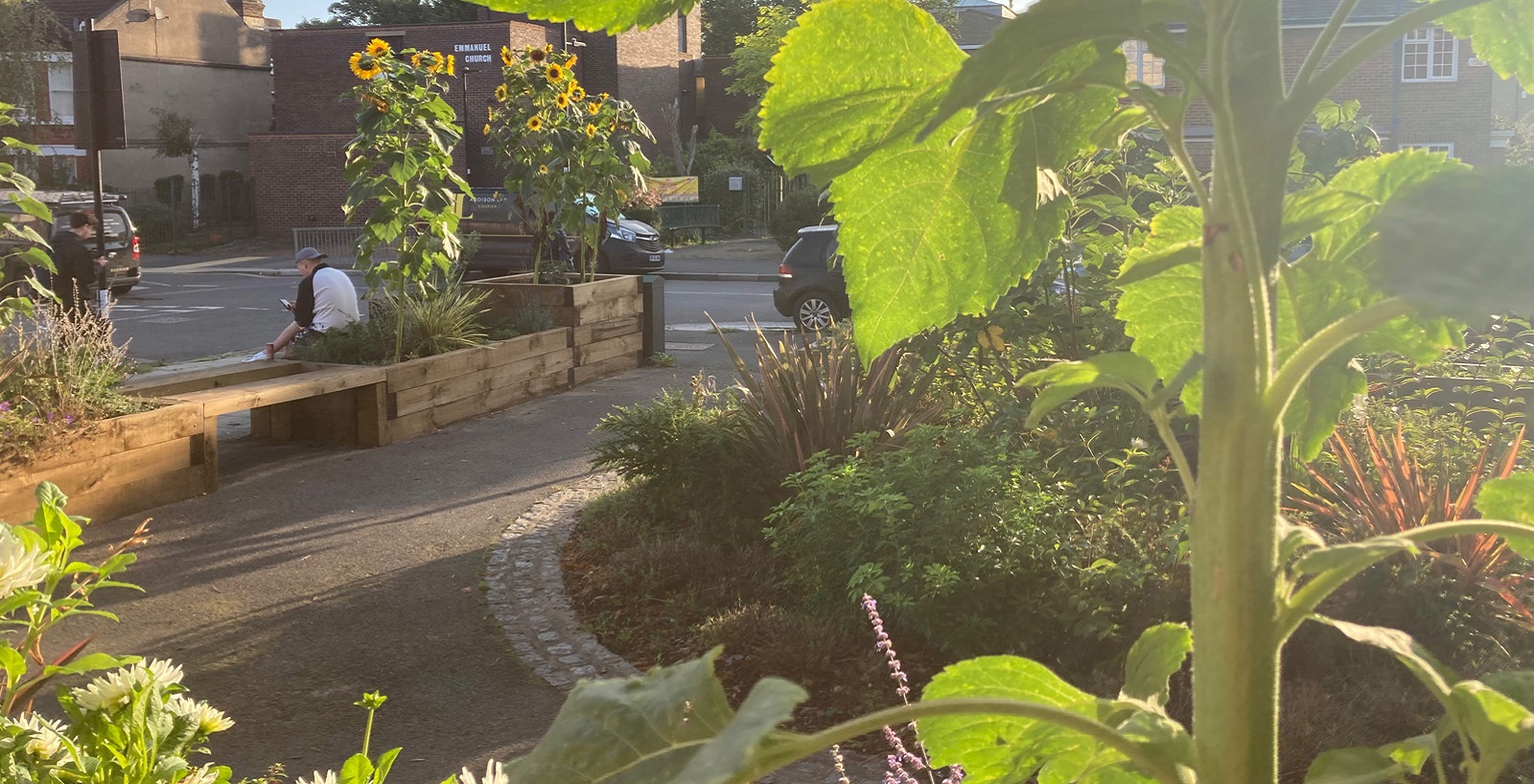 Willem Heskes of West Norwood's Carnac Street Community Garden explains how and why their garden has grown: "The corner of Carnac Street with Clive Road had become a well-known fly-tipping site for too many years. It made our living spaces feel unwelcoming and unsafe, adding stress to residents, and a depressing sight for children going to school every day. We had the idea of creating a garden as the area was big enough, a green space for everyone, to improve the environment and people's daily lives".
Proposal and partnership
"I initially spoke to the lovely people of Tritton Vale Pocket Garden for advice on how to start the project. I then prepared a detailed proposal, including designs and breakdown of costs, for Lambeth Council. We got support not just from them but from their recycling and cleaning contractors. All agreed with our objectives to create a welcoming space that gives something back to the community to enjoy and be proud of.
The recycling bins which used to be in the corner and had become a fly-tipping site, were relocated and are no longer visible from the street – helping design out anti-social behaviour.
In December 2020, the garden was built following our design, with plants and soil both donated by Lambeth's contractors.
Spring brought tulips, summer gave us lavender, gladioli, prolific geraniums Rozanne and stunning parovskia or Russian sage. We planted poppies, nasturtiums and sunflowers – which became an incredible talking point and have kept going until November.
The Community Garden was designed to be low maintenance, the hardy plants chosen can go without water for long periods of time. We do a little weeding, pruning and planting every now and then. The beds will need topping up every year with topsoil/compost and bark and we are looking at how to finance this at the moment.
In less than a year, the Community Garden has transformed the environment and encouraged pollinators and birds. The feedback from residents and passers-by has been amazing, they all love it. It's been a fabulous success.
Future plans
"For the garden to feel complete we'd love another raised bed and we're planning another project with the help of the Dulwich Outdoor Gallery, for an artist intervention on a section of a wall were the garden backs to."
More information
Follow Carnac Street Community Garden