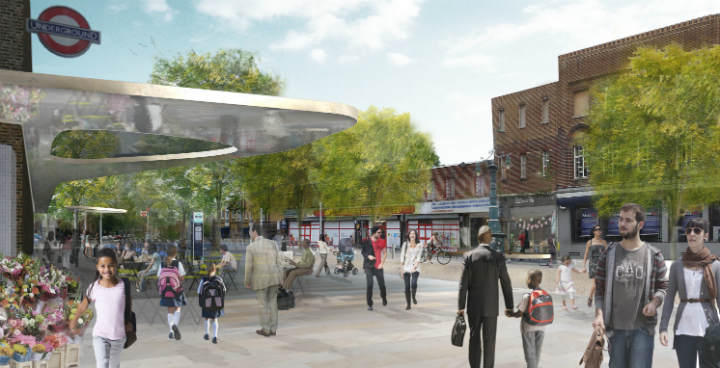 Maybe you have heard of Venn Street, in Clapham, and multi-award winning Van Gogh Walk, in Stockwell? These are two schemes which have been recently completed, and there are more great changes to come.
Clapham Old Town
Clapham Old Town is starting to look glorious! Pavement and road works are gathering pace and new tree planting is imminent.
We appreciate everyone's continued patience and hope you enjoy the new Old Town area for many years to come. Work should be completed in spring 2014.
Babington Road, Streatham
Work began in January to transform part of Babington Road in Streatham into a leafy, pedestrianised area where a new weekly street market and other community events can be held.
More than 200 residents gave their views and over 80 per cent were in favour of the plans.
We are working with Transport for London to see if a pedestrian crossing can be introduced on Mitcham Lane.
Work is due to be completed in March 2014.
Stockwell Square, Stockwell (See main image)
We are working with the Stockwell Partnership, local residents and architects DSDHA to develop the area of Binfield Road, adjacent to Stockwell Station.
The new Stockwell Square will be a safe and accessible public space for the thousands of people who pass through the area every day and will kick-start regeneration of the centre of Stockwell. Work will include making improvements outside the Grade 2 listed bus garage.
Construction started in mid-January and will be completed by July 2014. During this time there may be disruption to all road users and our contractor will do their best to keep this to a minimum.
Find out more about our improvements
For further information on Stockwell Square and Babington Road, contact George Wright on 020 7926 0728 or email him at gwright@lambeth.gov.uk
For further information on Clapham Old Town, contact Fred Fernandes on 07534 268 630 or email him at FFernandes@lambeth.gov.uk
Get involved
If there are parts of your street that could benefit from a clean-up or a lick of paint, our Community Freshview scheme can help you and your neighbours with practical support and equipment.
Get in touch with freshview@lambeth.gov.uk and we'll help things get going.
What do you think?
What do you think of the designs? Is this the kind of thing you want to see more of in Lambeth, or do you have any bright ideas?