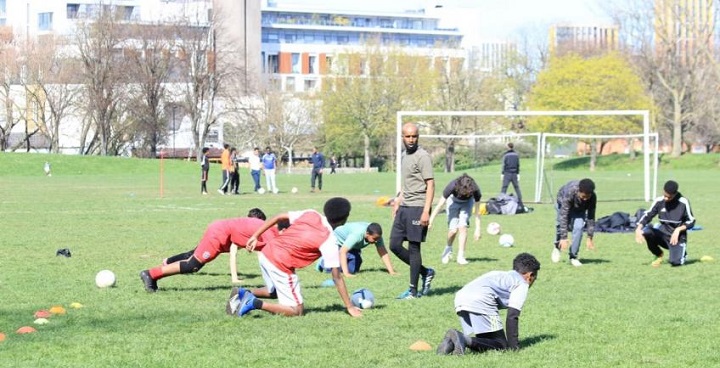 Streatham Academy FC has successfully crowdfunded almost £3,750 with 11 supporters in 63 days. A £20 pledge got a day with the young players, £100 a football shirt signed with thanks from them all. Lambeth Council added 50% – the maximum available – with funding of £1,834.
Football club's goals
Coach and founder Hussein Muhamad Hussein explains: "At Streatham Academy FC we work to give local youth (ages 5 – 25) a safe space to learn and grow. We protect our youth from a life of crime and gang culture, giving them a chance as teammates to build a positive future.
Role model
"In 1999 my family fled civil war in Somalia. I'd never even heard of England. I joined a Somali-run club in Streatham – Waaberi FC. It offered a diverse group of young people football, educational activities and mentoring. I completed a sports science and exercise course at college to become a coach.
Four survivors
"I was part of a group of 30. Since the club shut down in 2009 due to funding cuts, 5 have fallen victim to knife crime and 21 have been in prison. Only 4 of us managed to escape crime and gang culture.
Teach what we learned
"I realised just how much positive impact Waaberi FC had on me and the whole community. So I started Streatham Academy FC to teach what we have been taught, to be law-abiding citizens and good human beings – these are our club values imparted to our players, volunteers and members!
Stretch target
"Lambeth's matchfunding means we can set a stretch target and raise money to:
Enter all 5 teams into the London FA Saturday league
Hire a venue for training twice a week all season.
Pay for trials away to help progress young players.
Send at least 5 young players to the FA Level 1 coaching course
Pay for another 5 to attend mentoring courses.
Afford volunteer expenses and transportation costs.
For more information
Crowdfund Lambeth is an online platform supporting new community projects and initiatives. Local people can donate to support projects in the borough. If the project generates enough support from the crowd, the council may contribute 50% of your funding target up to a maximum of £5,000.  Your project will need to support priorities set out by local people in the Cooperative Local Investment Plans (CLIPs).
For more about getting your project off the ground with Crowdfund Lambeth