UPDATE (20/0102015)
Since his death there has been a wave of ideas put forward from both residents and Bowie fans across the country. But in the first instance we are working to preserve the impromptu memorial in front of the Tunstall Road mural. We are in contact with Morleys Brixton, the department store, about how best to do this.
Please read more on our update on the Tributes to David Bowie.
Today the world is mourning music legend and artist, David Bowie, who has lost his 18-month battle with cancer.
Tributes are flooding in from industry greats, collaborators, politicians and just about everyone – all shocked and saddened by the news. Bowie had just celebrated his 69th birthday, on which he released his latest album, Blackstar, called his 'parting gift' to the world by long-time friend and producer Tony Visconti.
Born at 40 Stansfield Road, Brixton on 8 January 1947, his mum was an usherette at the local cinema (now the Brixton Academy). He lived in Brixton and went to Stockwell Primary School until 1953.
Lambeth, and specifically Brixton, has always been immensely proud of its local hero.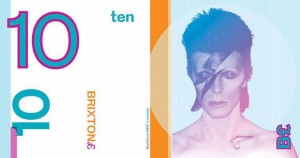 In September 2011 the Brixton Pound local currency featured Bowie on its £10 note.
More recently he's been immortalised in a mural on the wall of Morley's department store, in Tunstall Road. The painting, completed in June 2013 by Australian James Cochran, is inspired by the album cover of the 1973 album Aladdin Sane.
The mural is now the site of many floral tributes and messages from local residents.
Lambeth is shocked and saddened at the loss of Brixton hero, David Bowie. The council would like to commemorate Bowie and welcomes suggestions but of course, will discuss any plans with his family at an appropriate time.