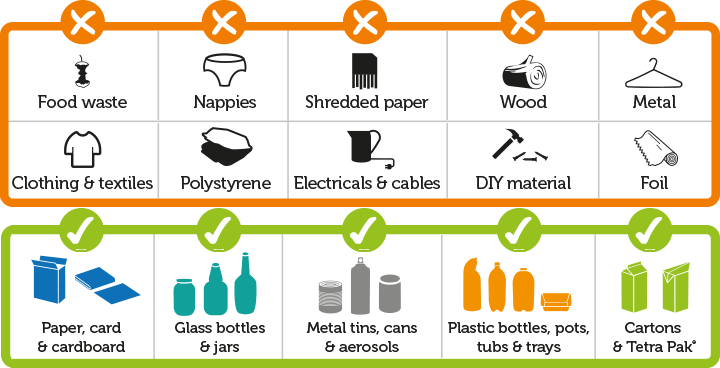 Did you know you can recycle the following?
Aerosol sprays
Bleach and shampoo bottles
Envelopes (even those with windows)
Juice/milk cartons
Phone Directories
Yoghurt pots.
But you can not recycle:
Pizza boxes (or any other cardboard that has soaked up grease or food)
Crisp packets
Foil
Pencil shavings (or any wood)
Polystyrene
Shredded paper
Wrapping paper
What happens when a recycling bag contains the wrong items?
Bags containing non-recyclable items have to be removed from the recycling process so that they don't contaminate other items going into the recycling plant's machines.
Thousands of bags are processed at the plant every day. It would be too time consuming for bags wrongly filled to be re-sorted, especially where the incorrect items have spread all around the bag.
These rejected bags are instead sent to a Waste to Energy plant, where they are used to generate electricity from the heat produced. While this is better for the environment than landfill, it is not as efficient as recycling. It also costs Lambeth more as the bag is processed twice.
How to find out more
View the Council's Recycling from home – guide
Visit the Western Riverside Waste Authority website for more information of what can be recycled, how and where.