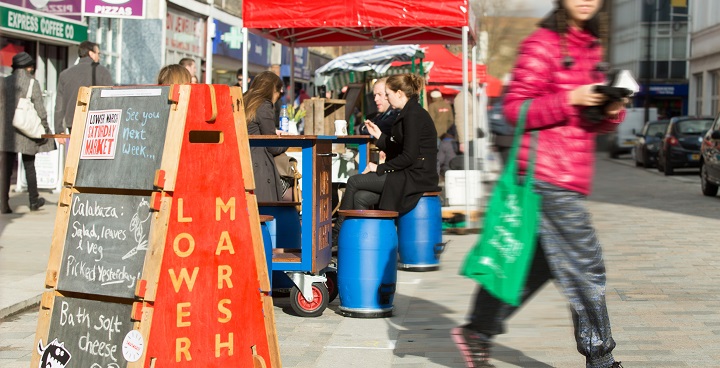 Development and economic growth in Waterloo and South Bank brings both benefits and challenges, including increased pressure on infrastructure and the public realm. Lambeth Council has worked with consultants Publica to develop a Draft Public Realm Framework to identify the need for investment and improvement across Bishop's Ward, Lambeth.
Six guiding principles for place-making
Based on a rigorous baseline audit of streets and spaces, it establishes six guiding principles to help shape better place making. These principles inform and infuse 18 location specific spatial briefs that describe the type of improvements that should be considered in each location. The Framework also identifies five example 'priority' projects. Have your say online between 26 March – 6 May.  Links to the Executive Summary or the Full Public Realm Framework document  are included below.
Your feedback
We are keen to receive your feedback on the Draft Framework. It is intended to underpin the revised Lambeth Local Plan and other strategic documents, provide direction to the public and private sector, help secure support and funding from a variety of public and private sources, and act as a springboard for the improvement and investment necessary to support growth, resilience, independence and place.
Thematic 'families'
The draft Framework identifies 18 public spaces (or locations) within Waterloo and the South Bank and groups them into four thematic 'families'. Each 'family' is defined by an overarching need.  For example, spaces that can improve connections between stations, or spaces that can enhance the Thames river promenade.
Priority projects
The draft Framework also identifies five example 'priority' projects in greatest need of improvement, including Victory Arch Square (outside Waterloo Station) and Emma Cons Gardens on The Cut.
Concept designs
Four projects have been deveolped as indicative concept designs to illustrate improvements that could be delivered. The concepts respond directly to the needs analysis, guiding principles and spatial briefs, although delivery will be subject to a design commission, consultation and available funding.
Have your say: Waterloo and South Bank Consultation
The consultation will run on-line from Tuesday, 26 March to midnight on Monday, 6 May 2019.
What will happen next?
The Council will review all responses and update the Draft Public Realm Framework, then publish a final Waterloo and South Bank Public Realm Framework on the council's website.
This strategy will support the emerging evidence base of the Draft Revised Lambeth Local Plan (DRLLP).
For more information
If you have trouble getting access to the online survey, or want background documents, email mailto:engagement@lambeth.gov.uk
Consultation documents
Photo of Lower Marsh courtesy of WeAreWaterloo BID.