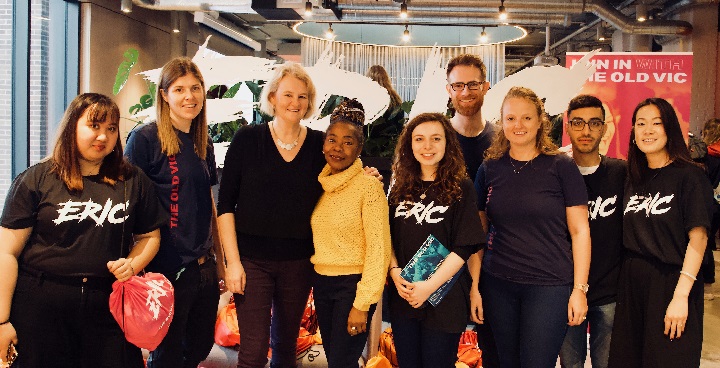 ERIC Fest hosted a day of 'Creativity, Curiosity, Chaos' in Vauxhall, including entertainment, stages and speakers giving engaging and relevant advice on creative careers. The day was designed in collaboration with the world famous The Old Vic, and supported by headline sponsor Lambeth Council with funding from the Mayor of London.
Lambeth sees ERIC as an ideal initiative to support its Creative & Digital Industries (CDI) Strategy for Growth and its forthcoming Next Generation programme that will work with partners locally to tackle underrepresentation in the CDI and encourage more young people in the borough into creative careers.
Word from the Cabinet
Cllr Sonia Winifred, Cabinet Member for Equalities and Culture, said: "This is the second year of ERIC Fest and we are more than happy to support it.
"We are determined to use the wonderful creative energy in Lambeth to give young people all the tools and advice they need to get started in a career in the sector. ERIC Fest is one of the best initiatives around in doing just that.
"The day itself was magnificent, an inspiring experience for all the young people who took part and I'm sure it has started many on their journey in the creative industries."
'Brilliant'
Hannah Fosker, Head of Education and Outreach at the Old Vic, said: "Our innovative employability and training programmes for 16-25 year olds offer opportunities for young people to build confidence, develop key transferable skills and increase access to careers in the arts, both in and beyond school.
"This partnership with ERIC Fest has been a brilliant way for us share our skills and experience with yet more young people from Lambeth and beyond, seeking to support a new generation into the creative industries."
Since ERIC's launch in 2017, they have held 8 sold out 'festivals', partnered with over 250 creative companies such as Barbican, Warner Music and BBC Radio 1, and reached over 15,000 diverse 16-25 year olds, with over 50% BAME attendance.
Hosted by the Office Group at Tintagel House – one of Lambeth's most exciting new workspaces for creative and tech businesses.  The event space was transformed into themed rooms representing an integral part of the entrepreneurial journey and Lambeth Council and The Old Vic were on hand to talk to young people about their stories and ambitions, and development opportunities they can access in the borough.
Some thoughts from participants:
"You can do anything you set out to do."
"It's given me more confidence in putting myself forward."
"I've got the keys to knowing how to progress."