We are working with Transport for London (TfL) on plans for cycling Quietway 5, a route running from Waterloo to Norbury. As part of this and further to our Quietway 5 cycle route consultation which we held earlier this year, we are now trialling restricted access to Estreham Road for northbound vehicles (excluding cycles).
Why Estreham Road?
Estreham Road is currently used as a 'rat-run', with non-local motor traffic using this road to avoid the traffic signals at the junction of Greyhound Lane and Streatham High Road.
By reducing the amount of motor traffic using Estreham Road, we hope to create a better street environment which prioritises people over vehicles, making it more pleasant for residents and visitors to walk through.
The six month trial to restrict access is designed to allow motor vehicle access to the train station, but reduce the volume and speed of motor traffic on Estreham Road.
Southbound motorists would still be able to access the road here as they currently do.
What will happen if the trial is successful?
At the end of the six-month trial period, we will take a decision as to whether to make the scheme permanent (by introducing a permanent traffic order), or to remove the one-way closure.
If it is made permanent, it is proposed that a traffic island and tree would be installed (as shown below).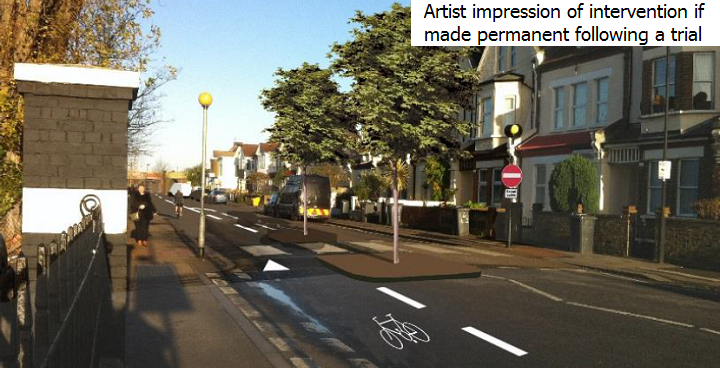 What are cycling quietways?
Quietways are a network of high quality, well signed cycle routes throughout London, mostly using backstreets. The routes link key destinations and aim to appeal to new and existing people that cycle who want to use quieter, low-traffic routes. Quietways complement other cycling initiatives in London, such as the Cycle Superhighways.
Find out more
Please visit the Quietway 5 cycle route consultation page for more information about Estreham Road trial and full Frequently Asked Questions.