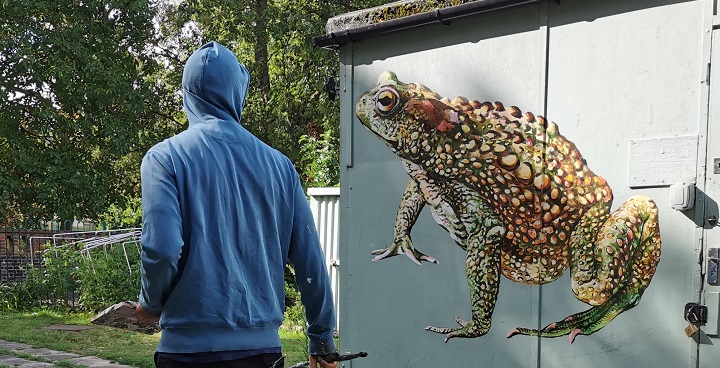 World-World-famous street artist ATM  – known for large-scale wildlife pictures on urban walls, and by his tag –  has unveiled his first amphibian. It's for nature conservation charity Froglife and it's in Lambeth's Ruskin Park.
Two-metre toad
Painting with brushes and acrylics rather than traditional urban spraycans, ATM submitted sketches for a 2 metre by 1 toad when Froglife's London T.O.A.D (Tails of Amphibian Discovery) project started in 2017. Once Froglife completed pond restoration works, the sketch became a mural on the side of Lambeth Council's highly visible in Ruskin Park Volunteer Cabin.
Fascinating creatures
ATM said: "Toads are remarkable and fascinating creatures,  and communicating by live-painting can have a lasting impact. My art of endangered species aims to captivate an urban audience so they want to actively support the regeneration of natural abundance, to inspire the younger generation to value and cherish the natural world, so they want to protect its scope and profusion. As London experiences massive building development it's vital we create areas of focused value for wildlife. The more ponds we create, the more we ensure London's biodiversity and health. Froglife's ponds do precisely that, creating ideal conditions for toads and countless other creatures."
Word from the Cabinet
Cllr Sonia Winifred, Lambeth Council Cabinet Member for Equalities and Culture said:  "I'm delighted the pond restoration is now finished and I look forward to seeing this new public art."
Parklife and Froglife
Dr Ian Boulton, Lambeth Environmental Compliance Officer, said: "We've always enjoyed a productive relationship with Froglife in improving our parks and open spaces so they are better for biodiversity and people's access to nature – London T.O.A.D is no exception."
Art in the park
ATM's giant toad is Froglife's third artwork in London parks. "We all know the health benefits of being out in nature and the inspiration that art can bring. Froglife has a history of combining both, " said Emily Millhouse, London T.O.A.D project manager.
More information
Late August/early September is the time toadlets leave the ponds where they were born. Froglife has run 'Toads on Roads' for over 20 years, co-ordinating to prevent thousands of migrating toads and other amphibians from being killed or injured. Read more
All profits from our work in habitat creation and the provision of ecological services. go to Froglife. We work in close partnership with Local Authority planners, architects, developers, schools and others. See more information