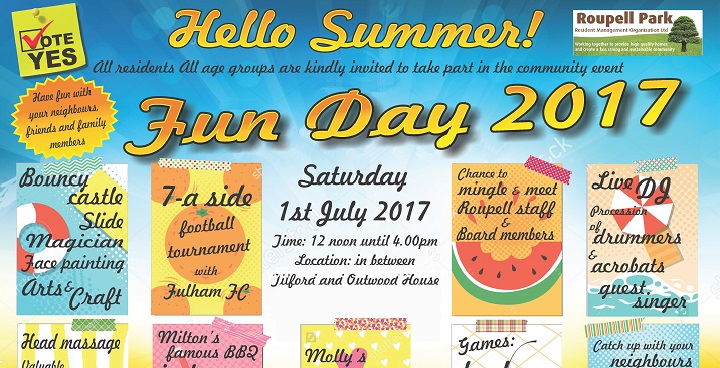 The event will kick off with a drumming procession and acrobatic performance and will cater for all age groups: there will be a stage programme accompanied by a DJ with local young people taking part as well as a singer / songwriter from Roupell Park who will do a solo performance. In addition, our young people from the estate are preparing for a mask show and the members of our Roupell youth forum will hold a talent show.
Fulham FC who run our Friday football session will run a 6-a-side tournament which will end with the presentation of medals and a trophy to the winning team and also there will be other community partners with their stands, such as Morley College, with massage and beauty sessions.
We will have an under 5s corner with a mini bouncy castle and a face painter as well as a slide for slightly older children.
We will also have a mini golf course and other games such as splat the rat and hook a duck. The staff team and a group of community volunteers will run a BBQ which always attracts a huge crowd, and a tea and coffee stand will be manned by our senior citizens coffee morning group. Raffle prizes, and awards that we won recently at the National Federation of Tenant Management Organisations (NFTMO) Conference, will be announced. We will also make special acknowledgement to our other community volunteers, who help run various community activities on the estate.
The event will end at 4.00pm with raffle prizes finding some lucky winners! The prizes have been donated by our contractor organisations.
Also, the event will have a special collection for the victims of the Grenfell Tower disaster.
Saturday 1 July
12-4pm
Roupell Park Estate, SW2