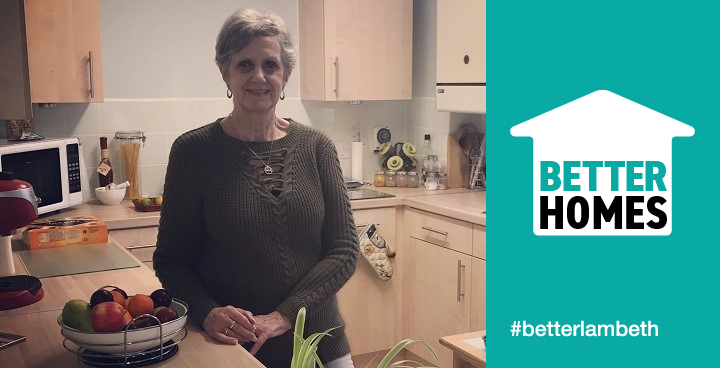 The council is now six years into its Lambeth Housing Standard (LHS) programme; a plan to make sure that all council homes in the borough are warm, safe and dry. The standard is based upon the views of over 6,000 residents, and the council committed £450m to the programme.
Since 2012, we have carried out internal work in over 20,000 homes, including brand new kitchens and bathrooms and have installed new lifts, boilers and heating systems along with other communal upgrades benefiting over 16,000 homes. We've also put in new windows, front doors and replaced roofs, among other work to almost 15,000 homes.
Genevieve takes us through her LHS experiences as her home received a new kitchen and bathroom.
Making a choice, making it yours
"This summer I got a new bathroom and new kitchen. The surveyor came and said they needed updating. Then I had an appointment with the kitchen designer and chose light green tiles for the bathroom, sandy pink floors and light wood kitchen cabinets and worktops. I asked my daughter for a second opinion on the colour choices and we both think it looks 100% lighter and brighter and that makes the kitchen space look bigger. I also think it looks quite posh and not at all what people might think of as 'council'.
Living around the workers
"They told us upfront it could get messy. I said to the contractors 'just get on with it'. I knew I could put up with the noise because I knew I was getting something really good out of it and, even better, it was free.
Customer service
"Mary, the contractors' customer liaison officer visited us on a regular basis but I told her every time  I never had a problem to report. If they said they'd be there at 8.30, they were there. They always cleaned up at the end of the working day. We didn't let it disrupt us too much. We pushed everything into the living room, we lived on sandwiches and the microwave, and we gave them plenty of cups of tea because it was a hot summer.
"I was also really pleased with the rewiring and trunking. What I've got is 100% fine and they've confirmed that later this year I'm on the list for new windows that will keep the draughts out."
---

See how you can get involved to help us create a Better Lambeth for everyone, through our key campaigns:
Read the latest Better homes news.