Background
Education has been transformed in Lambeth in recent years, thanks to the close working between the Council and schools. We have invested heavily in our school buildings working with partners to create world-class learning environments. Lambeth schools are successful and popular with families.
Education is a top priority for everyone who lives and works here. It is a powerful force for regeneration and change.
Many of our schools are among the very best in the country.
Our schools' performance is in the top 10 of all Local Authorities in England and Wales, with 96 per cent of our schools rated 'good' or 'outstanding' by Ofsted.
Lambeth schools provide extra support for children who speak English as an additional language, have special needs or who come from disadvantaged backgrounds. About 47% of Lambeth's school population has English as an additional language. Children thrive in our schools and our teachers and head teachers are highly valued.
What we're doing
Lambeth Schools, with the support and challenge of the local authority, are driving up standards for all of our pupils, by continually improving teaching and learning, but also providing facilities and buildings fit for the 21st Century.
We want our schools to continue to succeed in ever more challenging financial circumstances and have set up the Lambeth Schools Partnership which, with the Council, will ensure that school improvement and innovation in education remain at the top of the local agenda.
Provisional results this year show that over 60% of Lambeth's pupils achieved GCSE grade 9-4 in both English and Maths, one of the new key measures of achievement and equivalent to the old Grade A*-C.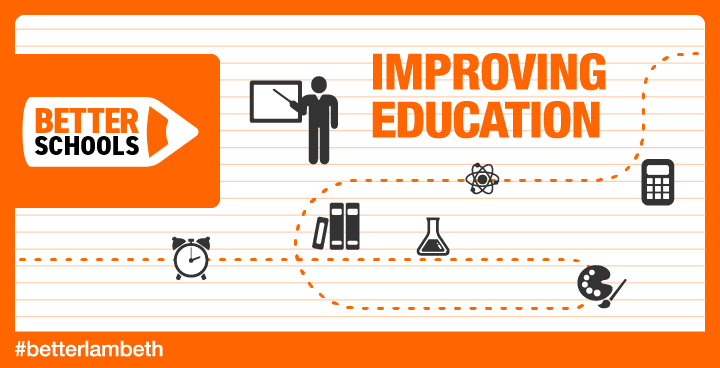 Children thrive in the best learning environments, and we are providing them with modern buildings and learning spaces:
We are completing a large-scale project to build specialist Resource Bases in our mainstream schools to support children with additional and special needs to achieve their potential. These are opening in 10 schools across the borough.
We are continuing to expand and build new schools to host our growing school population: developments are planned at Sudbourne, Telferscot and Wyvil primary schools and a new secondary special school will be built in Vauxhall.
New secondary places will be needed in the 2020s and we are preparing for those.
The proposed new National Funding Formula, consulted on by the Department for Education before the election, would have seen Lambeth lose one of the largest per-pupil amounts in the country. Reductions on this scale would result in less money for schools, fewer teachers and resources.
The council lobbied the government to reconsider the proposed changes, and we will make further representations if needed.
Work with us
We want to ensure that Lambeth's improvements continue, by encouraging the whole community to join their local schools' campaigns to protect their budgets.
Campaign to ensure our schools get the funding they need
Become a school governor: apply through Lambeth Governor Services
Support your child's school with any events or activities they are planning
Come along to the Parent/ Carer Forum for parents and carers of children and young people with additional needs at Contact A Family
Look at our Local Offer website for children and families with additional needs and give your feedback. Visit the Young Lambeth website.
View our other key campaigns
Return to the Building a Better Lambeth page.