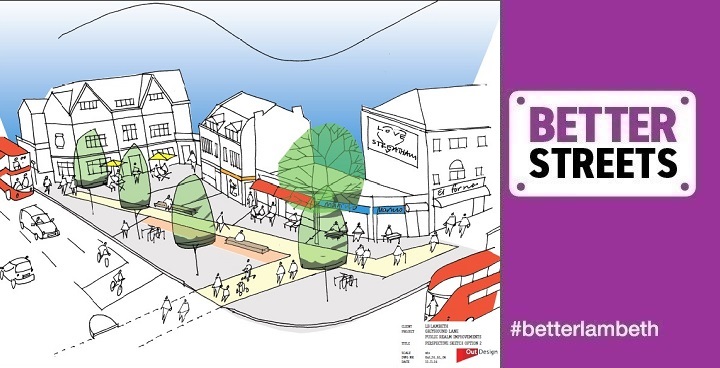 Lambeth Council recently completed work on the Greyhound Lane Public Realm Improvement Project. This saw the removal of the dangerous slip road at the junction of Streatham High Road, which was used as a shortcut by 1,000 vehicles per day.
Landscape and garden
After consultation with the local resident and business community in 2015, the Lambeth Our Streets Neighbourhood Enhancement team developed a plan to remove all vehicle access and provide a paved and landscaped area that is safer and more welcoming for people. With support from TfL, this transformation was completed in August this year.
Community event
On Thursday 18 Oct from 3pm to 4.30pm, Lambeth are inviting the community to come and visit the new space and converse with Council officers and Councillors. Father Nature will be there with refreshments and will need help from volunteers to make the final touches to the rain garden.
---
For more information
The main focus of Our Streets is on speed limits and traffic calming; parking and loading arrangements; crossing points; car clubs; cycling facilities; public realm improvements; seating; bins; greenery; signage and removal of street clutter. However, we encourage residents to raise wider concerns. See the Council's information pages for our current projects.
Father Nature is a landscape gardening company with a difference. We believe in access to nature for all, wherever you live. We are a Social enterprise that aims to bring people together to create, improve or expand community and private green spaces for living, learning, growing and playing. Find them online
A rain garden, also called a stormwater garden, is designed to allow rainwater runoff from urban areas, like roofs, driveways, walkways, parking lots. It makes rainwater available for plants, helping to reduce the risk of flooding in urban areas and improves the local. You can find guidance on planning a rain garden from the Royal Horicultural Society