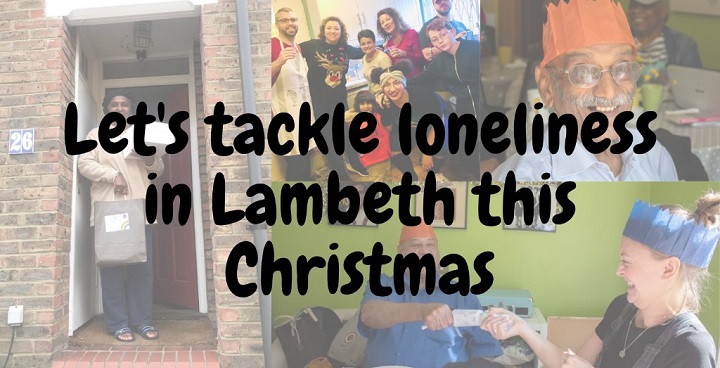 Many of us experienced loneliness during lockdown, some for the very first time. Unfortunately, for many older people in Lambeth, their experience of isolation did not end when the Covid 19 restrictions were lifted. For the hundreds of older people who live alone, loneliness is an ongoing issue and Christmas is a difficult time.
Delivering dinners
Age UK Lambeth aim to support more isolated people, alongside a team of volunteers. Our team are making extra Christmas dinners and dropping them round to homes in Lambeth, as well as a gift, hand-written card and cracker. In 2020, we delivered 260 meals and gifts, and this year we intend to do even more. By donating to our campaign, you will put a smile on someone's face this Christmas and spread some much needed cheer.
Word from the Mayor 
Cllr Annie Gallop, Mayor of lambeth, said: "This year, Age UK Lambeth's work is more vital than ever due to the pandemic. In 2020-21, need for their help went up to 70,000 clients, compared with 21,000 the year before. Not helping is never an option for Age UK Lambeth. They make a massive difference, and you too could be part of hundreds of older people in Lambeth feeling less alone this Christmas." Positive impact
£12 could fund a goody bag (£120 = 10 goody bags) for someone spending Christmas Day alone.
£20 could fund a set of plates so volunteers deliver a delicious Christmas meal without worrying about getting the plate back.
£50 could fund a MYsocial instructor to run classes like yoga, zumba or a Christmas choir, helping people to stay social, active and independent.
£100 could fund MYsocial Christmas events, such as a trip to the Christmas markets.
Your donation will help someone like Leonard, 64, who was spending Christmas Day 2020 on his own until volunteers delivered a roast dinner to his door. Leonard said this made "one of the best Christmas Days I've ever had."
We are also hosting events  including a quiz and Danceathon to raise money.
Please support our Just Giving page and help us deliver as many Christmas meals and gifts as possible!
More information
Age UK Lambeth is an independent local charity that has worked in the community to help older people, their families and carers for over 70 years.  Our mission is to support older people in Lambeth to live enriched, productive and purposeful lives, challenging the stigma of ageing, reducing social isolation and ensuring they get the right support at the right time.