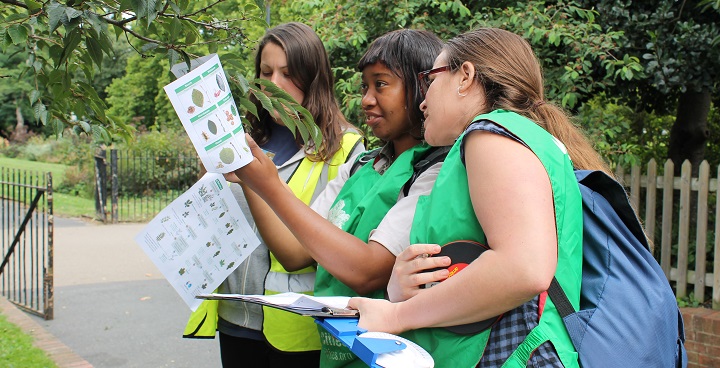 What is a tree worth?
In a year, 1 mature leafy tree can: produce enough Oxygen to allow 10 people to breathe, release up to 100 gallons of water producing a cooling effect equal to 10 air conditioning units AND can absorb as much as 48 pounds of carbon dioxide.
Measuring trees
Local volunteers worked to measure the size and health of Kennington Park's trees. Using the iTree framework, this data can then be used to ultimately find out the value of the city's trees, and other crucial statistics, such as their carbon sequestration and flood protection capabilities.
Love urban trees
Paul Wood, author of London's Street Trees, said "Projects like this are proving how so many local people really appreciate our urban trees. Contributing to iTree allows volunteers to gain a greater appreciation and understanding of the environmental impact they have".
Grown up with the park
Kennington resident, Susan, highlighted this connection to the park's trees, stating: "when they planted the trees in the 1990s my kids were small. It's amazing now to see how they have literally grown up with the trees. Kennington Park is such an important space for our community; especially for families who live in flats and don't have gardens. The trees help us enjoy ourselves outdoors."
Trees at risk
Londoners may love trees but the city is currently losing more than 58 trees every day. Paul Wood warns that even though some trees are being planted, the majority are so small they lack the flood protection and carbon sequestration rates of large trees. Trees for Cities are encouraging young people to get involved in planting fruit trees and bushes with edible playgrounds installed in London schools, and schools can contact them to sign up for free trees.
Cities need trees
The iTree survey aims to shine a light on the pressing issue our city's trees face, and tangibly prove the value the trees in parks, in gardens,  and lining London streets have on mitigating London's increasing air quality concerns. Trees for Cities need help to plant a million urban trees by 2020.
---
For more information
See the video 'how do you work out the value of a tree?'- for an explanation of the I-Tree system.
Contact Trees for Cities for more details of signing up for free trees for schools, community planting days, edible plyagrounds in London schools and supporting the charity through volunteering, fundraising, donating, legacies and other ways you can help Trees for Cities grow and they can help you.