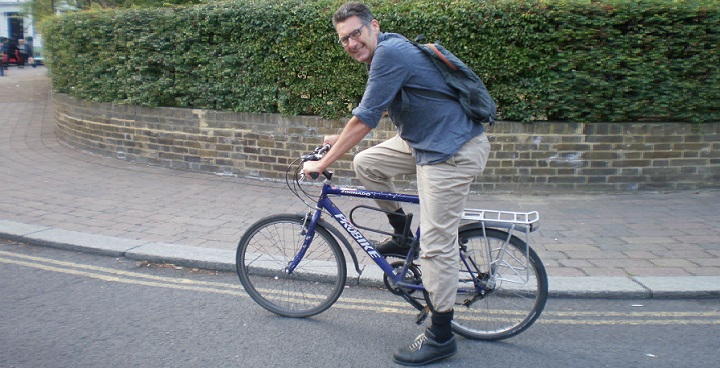 Lambeth is preparing to roll out a borough-wide 20mph speed limit in Lambeth as of November 2015.
By reducing speeds to 20mph, it will reduce the number of casualties in the borough, improve pedestrian safety, encourage more confidence among cyclists and cut the number of incidents around schools.
Jeremy Leach, the London Campaign Co-ordinator For 20's Plenty For Us, tells us why he is supporting the Lambeth Goes 20mph campaign
20's plenty is an organisation that campaigns for 20mph speed limit in built-up areas. I work with local people, community groups and Councillors and Officers across London to help lobby for slower speeds on our streets and a fairer balance between people and vehicles.
I cycle every couple of days, I enjoy the freedom it offers getting about London, the low cost and the fact I can usually get away with leaving things to the last minute as the journey time on a bike is always just about the same!
I am just scared of cars, vans and Lorries. Drivers seem to have no idea just how intimidating it is on a bike when they want to show who is boss and they are in charge of a vehicle weighing a ton and a half upwards.
One thing cyclists do not realise is they can be just as intimidating to pedestrians as cars; vans and Lorries can be to us, when we are cycling.
Lambeth becoming a 20mph borough is brilliant! It is great that all the South London boroughs are all soon going to be 20mph.
My hope is that drivers slow down and we can all feel the benefit and start to walk and cycle more and especially that more and more children will be able to have a fun journey to and from school on foot and by bike.
Find out more
More information about the council's plans:
For more information about cycling in Lambeth please visit our cycling homepage
Please visit the 20s Plenty For Us website for more information about their campaign. Follow @20sPlentyForUs on Twitter or like 20s Plenty For Us on Facebook