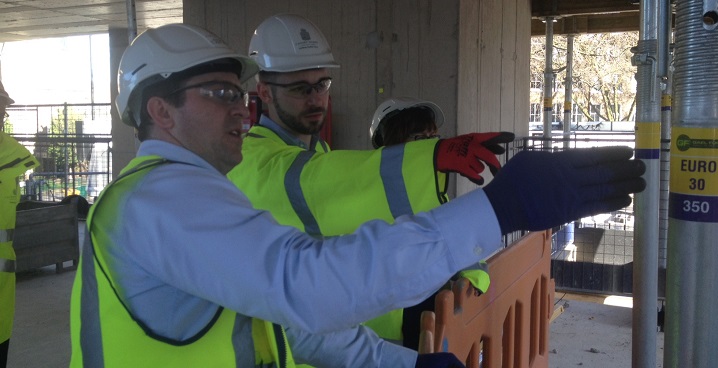 Despite the legal and financial restrictions that have limited councils' ability to build houses in recent years, Lambeth is still committed to providing new homes to help tackle the borough's housing crisis.
The council is already pushing ahead with plans for hundreds of new homes –many of them affordable and at council-level rent – on the six estates included in the estate regeneration programme. And last month we started showing prospective tenants round our first directly-delivered council homes built in the borough for 10 years.
Cllr Matthew Bennett, Cabinet Member for Housing, this week visited a site at Lollard Street, off Kennington Road, where work is well underway to build scores more homes at council-level rent.
The land around Elkington Point, Brittany Point, Ward Point and the old Ethelred Nursery is being developed by Braeburn Estates for the Council as one of the conditions imposed as a part of the planning permission to redevelop the Shell Centre at Waterloo. It will eventually provide 89 new homes – including 70 affordable, at Council level rents – and a new Ethelred Nursery and Children's Centre on the corner of Kennington Road
Braeburn is paying for this development and carrying out the building work for Homes for Lambeth, the Council's 100%-owned company which will be used to build more and better homes that we need for Lambeth residents. The scheme will improve pedestrian access through the area with new landscaping and public realm.
Demolition was completed last summer, and the structures of the different buildings are already taking shape. Work is expected to be complete by next spring.
After a guided tour of the site, Cllr Bennett said: "It is a pretty difficult time for councils to be building their own houses, as the financial and legal conditions often seem to be stacked against us. But we have a housing crisis in Lambeth, like the rest of London, and we have to do everything we can to tackle it.
"We've shown through the estate regeneration programme, and the innovative scheme at Akerman Road, that we are working hard to provide more and better homes for the people of Lambeth wherever we can. This new development will be another vital addition to our attempts to tackle the housing crisis."