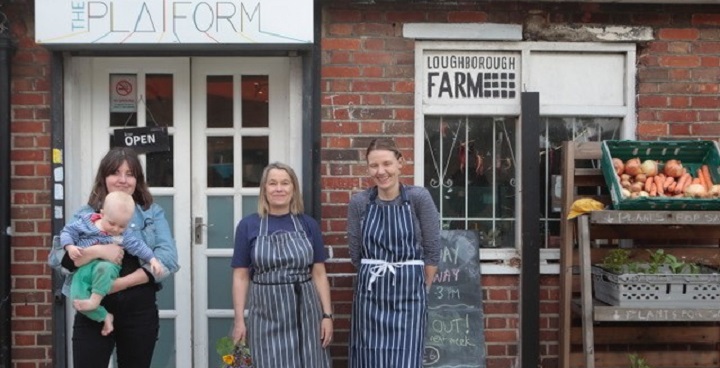 When the nation went into Covid-19 lockdown, Loughborough Junction's Platform cafe still offered takeaway vegetarian meals, using surplus food from Plan Z Heroes, City Harvest and the Loughborough Farm, to ease worry for locals in need.
Making more connections
But during this pandemic, we want to reach out to communities in isolation, using free meals as our means of connection, but aiming to provide more – talking, befriending and signposting people to essential services. Our team includes a qualified counsellor, a community outreach worker and trained Community Connectors. The Platform Cafe has always been a real community centre, where locals come together for food, for a chat and sometimes just to see a friendly face.
Word from the Cabinet
Cllr Donatus Anyanwu, Lambeth Council Cabinet Member for the Voluntary Sector, said: "The mission of this project was ' Let's make sure no one in our neighbourhood struggles alone during the coronavirus crisis', and the community, like-minded organisations  and Crowdfund Lambeth have all helped to make that idea a reality."
Community targets
The project set a crowdfunder target of £10,000 for staff costs and volunteer coordination– based on just 2,000 people each pledging £5 to help vulnerable adults and low-income families for three months. It closed having raised just over £17,000 – including £5,000 from Crowdfund Lambeth to match the community support.
More information
To support the project see their Crowdfunder page
If you know of anyone in your community who is struggling, email
Crowdfund Lambeth is a platform to support community projects making our borough a unique place to live, work, learn and do business. The project must demonstrate strong local support shown a vibrant crowdfunding campaign. To be considered for match-funding from Lambeth Council, the project must also meet some simple criteria and must contribute to one or more of the borough plan priorities:
Sustainable growth: a growing economy that everyone benefits from.
Resilient communities: communities that are thriving and connected.
Promote care and independence: people have support to live well and independently.
Place: Make Lambeth a place people want to live, work and invest.
If you have a project or initiative and want to find if you're eligible for match-funding, you can see our criteria and apply online