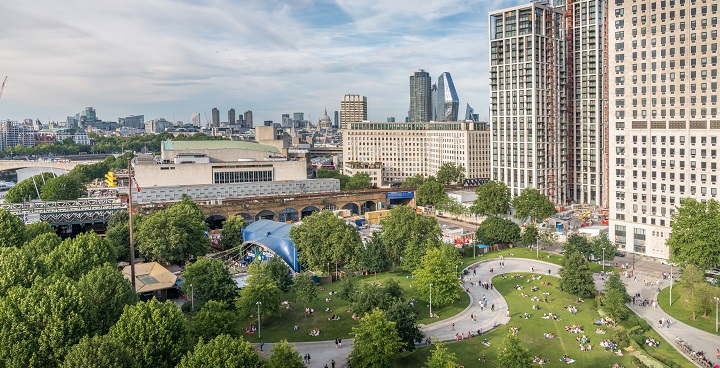 The work will look to deliver the priorities of the local community, having regard to green infrastructure, improved air quality, accessibility, inclusivity, management, maintenance and sustainability.
The Spine Route serves a diverse mix of users including pedestrians, cyclists, taxis, delivery and freight vehicles, tour coaches, private vehicles, buses and construction vehicles. It is a main crossing point from Waterloo Station to the many cultural institutions along the South Bank.
'A key link'
Cllr Claire Holland, Deputy Leader of Lambeth Council and Cabinet Member for Environment and Clean Air, said: "The spine route, running parallel to the South Bank, is used by millions of people every year and is a key link between the wonderful cultural institutions like Royal Festival Hall, Heyward Gallery and the National Theatre with Waterloo Station – one of the busiest transport terminals in Europe.
"Making this area more accessible for all, more pleasing to the eye and more environmentally friendly, is essential for the future growth and sustainability of the South Bank. This work is another example of Lambeth's commitment to ensuring growth in the borough benefits everyone who lives, works and visits the area."
Partnership
The council is working in partnership with local stakeholders, including landowners, resident groups, South Bank Business Improvement District (BID), and South Bank Employers' Group (SBEG), who led the project undertaken in the 1990s. The 2018 South Bank Manifesto, produced by South Bank Partnership, identifies this project as a key priority under its 'Public Realm and Environment objectives'.
Once designs are completed and approved, it is expected that Lambeth will start a phased delivery from spring 2020, building on the momentum currently generated by other local projects – including the TfL led Waterloo City Hub scheme and Lambeth-led improvements to Sandell Street.
'Investment'
Nic Durston, CEO of SBEG and South Bank BID, said: "South Bank is one of London's great success stories and is undergoing a process of dramatic change and development. This growth will continue to deliver new investment, jobs and other opportunities for local people. We welcome Lambeth's investment in this crucially important part of South Bank's public realm and infrastructure, and we look forward to working with them and the consultancy team on this project."
Design
The council has appointed a consortium led by urban designers, landscape architects and planners, LDA Design, to develop design proposals for the Spine Route. Designs will be informed by transport, movement and feedback from local residents and businesses.
The entire route was last upgraded in the late 1990s. Despite ongoing maintenance, increasing visitor numbers and a continuous development means the area now requires investment and improvement.