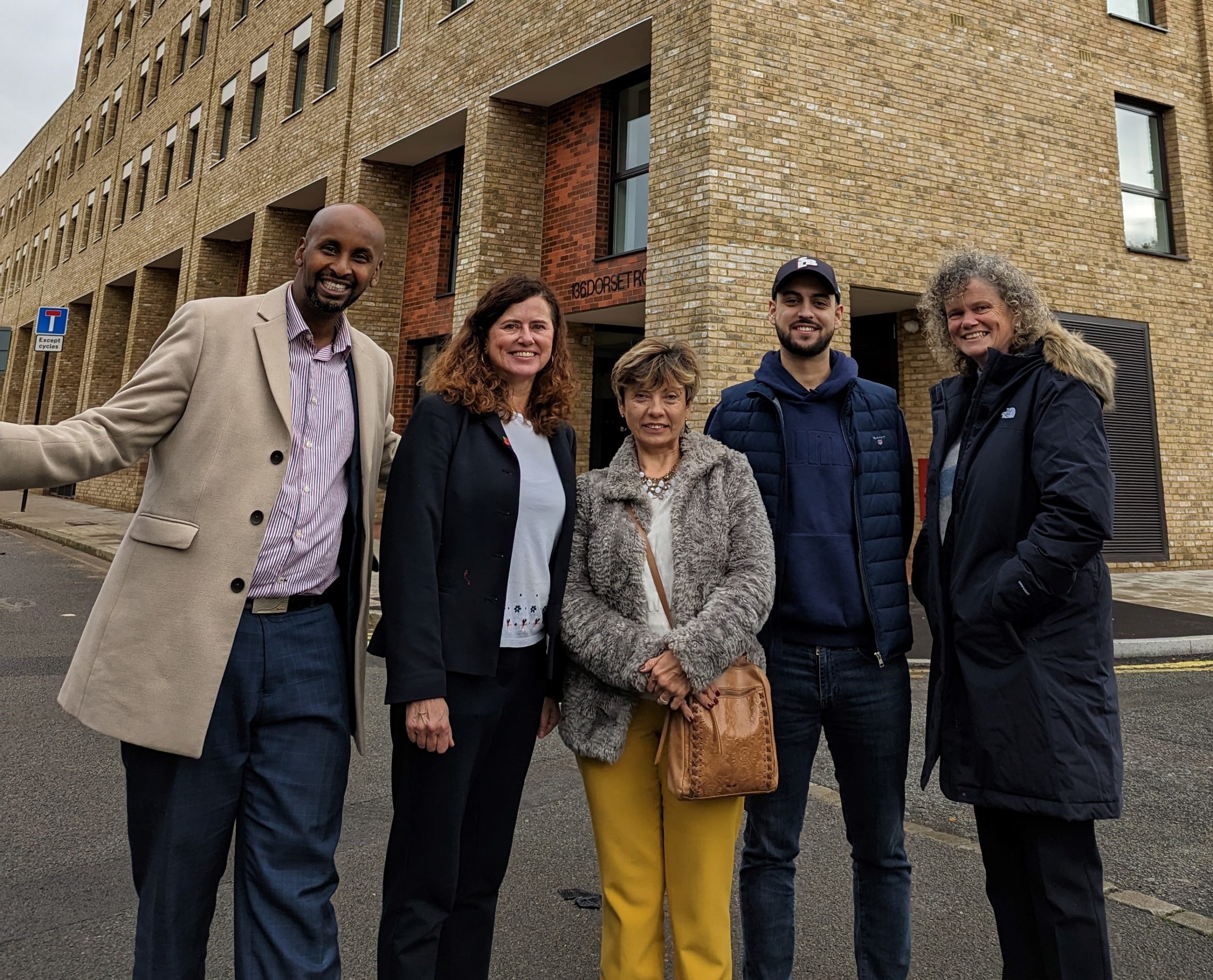 The council's Cabinet will consider a plan to bring affordable housing delivery fully back "in-house", to help deliver hundreds of new council homes while delivering on our net zero and sustainability ambitions.
The proposal comes as the council publishes the results of a review of its housing programmes, carried out by independent peer, Lord Kerslake. The findings of the Kerslake review, commissioned to meet the administration's manifesto commitment to tackle the housing crisis and to deliver more high-quality affordable homes more quickly for more people, will be discussed by the Cabinet at a meeting on Monday, 5th December.
The review points out that over 2,400 affordable homes have been delivered in Lambeth since 2017, the 13th highest in London, and it praises the council's approach to delivering new affordable housing with high sustainability standards in line with the council's commitments to tackle the climate crisis.
The report also highlights delivery challenges in the council's wholly-owned housing company Homes for Lambeth, and recommends that the company is brought back into the council over a period of time as its existing schemes are completed. It also acknowledges significant challenges that local authorities, housing associations and private sector housebuilders have faced and are continuing to face due to Covid-19, construction inflation and the wider economic downturn.
The report further highlights that delivery on rebuilding three estates, Fenwick, Central Hill and Cressingham Gardens has been too slow and that resident engagement needs to be fundamentally reset to support people living on those estates. The Cabinet report recommends that the council accepts the recommendations from Lord Kerslake,  and to commit the council to resetting its approach to those three estates and a fundamental change in how resident engagement is conducted.
The council's detailed action plan sets out a series of measures, including bringing Homes for Lambeth back into the council, producing a refreshed Lambeth Housing Strategy, a new Housing Delivery Programme and a new Estate Renewal Resident Engagement Framework.
The council will also reset engagement with residents on the Central Hill, Fenwick and Cressingham Gardens estates, prioritise urgent repairs and maintenance across these three estates, and continue to embed whole-life cycle carbon assessments into all schemes, building on the work cited in the report on sustainability and net-zero as among the best in London.
Word from Lord Kerslake
Lord Kerslake said: "There is an urgent need for more genuinely affordable housing in Lambeth. Many councils and affordable housing developers across the UK are experiencing challenges in efforts to build more new, affordable homes. Lambeth Council leadership are to be commended for commissioning this independent expert review to explore how their programme can be accelerated. Our report sets out the achievements and challenges there have been to delivery in recent years and recommends a way forward for the Council to better achieve its ambitions. I am pleased that they have responded openly and positively to our recommendations."
Word from the Cabinet
Cllr Claire Holland, Leader of Lambeth Council, said: "We instigated this review because we knew there were issues in our delivery of affordable housing at the levels we desire – and its recommendations now give us the steer we need to make the necessary changes. Although the review makes for tough reading in parts, we welcome the challenge it sets out and the foundation it provides to us to progress the delivery of the new homes we desperately need in Lambeth.
"Overall, the report found that we have been delivering in the middle of the pack in London in terms of new homes, but that we could be achieving a lot more– and that's exactly what we want to make happen.
"Just last month, I met families moving into brand new council homes on the South Lambeth estate – homes that they have waited for years for and that will finally give them the space, comfort and security that they deserve. That's my ambition for everyone who needs a safe, secure, warm and genuinely affordable home in Lambeth – and this report will help us to deliver that.
"It is clear that we need to reset the way that the council engages with people on sites where change is needed – and we'll work with residents to make that a reality. We also have an opportunity to build on our sustainability standards to ensure that each new home adds to our efforts to tackle the climate crisis. And we want to refocus our attention on ensuring that new genuinely affordable homes are at council rent and are managed by the council"
Cllr Danny Adilypour, Cabinet Member for Sustainable Growth and New Homes, said: "We've made clear that this administration is determined to listen where mistakes have been made in the past and to act on them and this report is a key step towards doing that. While there have been successes through our existing programme and Homes for Lambeth, including over 230 new homes at council rent that local families have moved into, other schemes have moved too slowly and we want to do more.
"We will bring Homes for Lambeth in-house over the next couple of years as its existing sites conclude, including the further 55 new council rent homes that are under construction. And we will set up an in-house team to take forward other sites that are currently planned across the borough which will deliver these genuinely affordable family homes that local people need.
"On three estates that are currently being rebuilt, Westbury, Knights Walk and South Lambeth, we will push to complete these schemes as soon as possible in full consultation with residents. On the three estates that have not yet got masterplans in place, Fenwick, Cressingham Gardens and Central Hill, we have already made a commitment to reset our resident engagement and undertake a full options appraisal with residents on the best way forward. Any decision on the future of those estates will be made in full consultation, with a ballot in line with GLA guidance."
Background
Lambeth Council launched the independent Kerslake review in July, aiming to boost the delivery of genuinely affordable housing in the borough.
It was commissioned to look at how Lambeth can accelerate the delivery of affordable housing in the borough and, in particular, homes at social rent which are genuinely affordable for local families on the housing waiting list.
The council's detailed action plan commits to:
Bringing Homes for Lambeth back into the council over the next 2-3 years, completing existing sites that are currently underway
Producing a new Estate Renewal Resident Engagement Framework setting out overarching principles and best-in-class communication and engagement approaches for all current and future renewal estates, by February 2023.
Resetting engagement on the Central Hill, Fenwick and Cressingham Gardens estates, with new options appraisals and a commitment for residents to be balloted on the future of the estates.
Prioritising urgent repairs and maintenance across these three estates. We will announce a detailed work plan of the Liveability programme by February 23 setting out the council's investment and commitments.
A refreshed Lambeth Housing Strategy and Housing Delivery Programme will be published by end of Summer 23 setting out the council's aspiration and policies on housing delivery and housing management.
Continuing to embed whole-life cycle carbon assessments into all schemes, building on the work cited in the report on sustainability and net-zero as among the best in London.
Lord Bob Kerslake is a Crossbench Peer and former Head of the Civil Service. He led the Department for Communities and Local Government from 2010 to 2015 and prior to that was the first Chief Executive of the Homes and Communities Agency, where he was responsible for promoting new and affordable housing supply. He is a former Chief Executive of the London Borough of Hounslow and of Sheffield Council, and currently chair of Peabody Housing Association. Lord Kerslake is also Chair of Be First, the Housing and Regeneration body for the London Borough of Barking and Dagenham. He recently chaired a review commissioned by the Mayor of London to increase the speed and scope of housing delivery on land owned by the Greater London Authority (GLA) Group.
Further information about the review, including the Terms of Reference, is available on the Council's website.