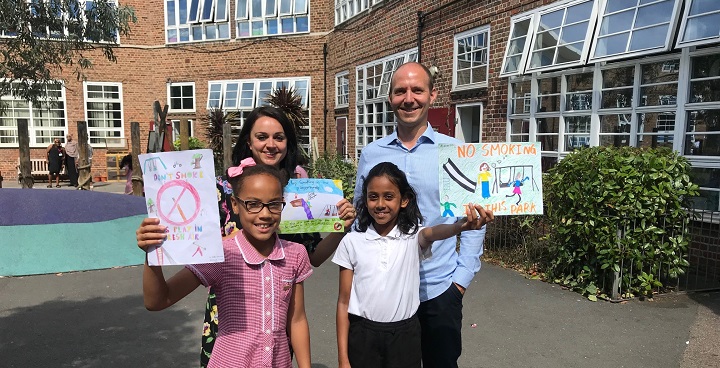 Children from Jessop Primary School in Lowden Road, Herne Hill helped design the signs that will be going up in playgrounds and parks across the borough.
The winning design features children playing asking people not to smoke where they play.
Lambeth council, police officers and members of the public will be asked to enforce the ban by pointing out the signs to anyone smoking in playgrounds.
Word from the Cabinet
Cllr Ed Davie, Lambeth Council Cabinet Member for Health, gave out the prizes at a special ceremony held during Jessop Primary School's assembly on Tuesday (July17).
He said: "Children are particularly vulnerable to second-hand smoke, which has been linked to an increased risk of a range of illnesses including asthma, wheezing, and middle ear infections.
"Through their posters, the children have told us loud and clear, that they don't want people smoking near them. Lambeth council believes that our children and young people have a right to play, meet their friends and take part in sports in a clean, smokefree environment."
Discouraging the habit
Based on the experience of similar bans on train platforms and other public spaces the restriction and signs should reduce exposure to second-hand smoke.
It also limits the space where smoking is seen as 'normal' in a bid to discourage people from the habit which kills half of all smokers and many more who breathe other people's second-hand smoke.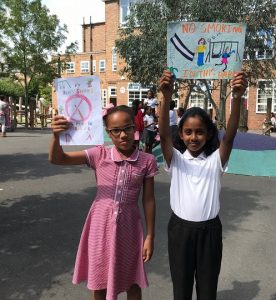 The ban should also cut down on litter from cigarette butts, which estimated to amount to 26 tonnes in Lambeth every year. These butts can take up to 12 years to biodegrade and are dangerous to young children who may ingest them. In addition to the butts are the boxes, cellophane, lighters, paper and pouches that can blight parks and playgrounds and cost money to clean up.
If the ban is successful Lambeth Council will look at extending it to whole parks and other public spaces.
Poster designs were produced by 23 children with the winning effort produced by Year 5 pupil Skye, the runner-up was Year 5 pupil Divya and Year 2 pupil Zara came third.
Martinet Ackerman, Jessop Assistant Headteacher, said: "The children have been really engaged by this competition and we had pupils from Year 1 to Year 6 involved, so everyone here has been involved which is great. The competition has been a really good way of reinforcing anti-smoking messages to the pupils, as well as to their parents and many of them helped their children with the designs."