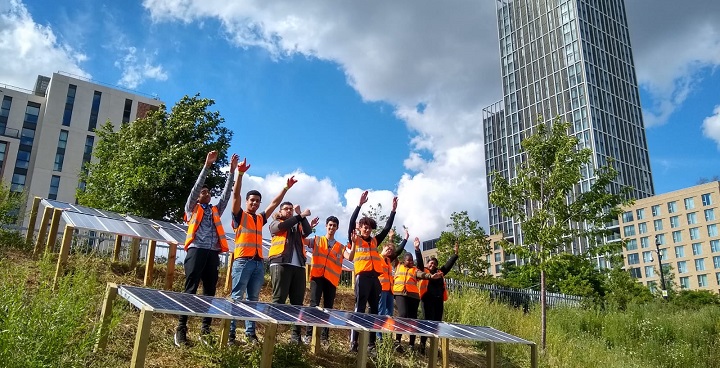 Lambeth Community Solar (LCS) is a pioneering borough-wide energy co-op. Our big ambition is installing community-owned solar panels and leading Lambeth towards a green, sustainable and inclusive future – in partnership with local residents, businesses, community groups and Lambeth Council.
Solar schools
In October, we'll install solar panels on Elmgreen and Norwood schools. Both schools have been actively involved: a Norwood student designed our logo; we've delivered workshops on climate change and taken students from both schools for paid work experience installing solar panels for a changemaker lab.
Word from the Cabinet
Cllr Claire Holland, Deputy Leader of Lambeth Council and Cabinet lead on Environment & Clean Air, said: "I'm so proud that we have this pioneering community programme here in Lambeth that will help lower the carbon footprint of the borough with locally produced solar electricity. It is imperative that our young people are equipped with the knowledge to live low-carbon lifestyles from a young age, and through this project they will learn firsthand about clean energy supplies and its benefit for the both individuals and our climate."
Discount  power
The schools can buy discounted electricity from the solar panels, with any surplus exported to the grid. We expect the schools to save £27,000 over the projects' lifetime. This project will save 31 tonnes of CO2 emissions each year, equal to what 3,500 trees (more than in Brockwell Park!) take out of the atmosphere.
Community energy
We're partners with Repowering London, developing community energy projects, bringing power to the people:
Installing community-owned solar panels to generate clean, green electricity for schools, businesses and community buildings
Providing training opportunities for all ages with schools, colleges, and community groups.
Providing energy audits for Lambeth residents, helping them to save money and reduce the energy they use.
Piloting innovative ways to deliver electricity on Lambeth estates, reducing residents' bills.
 Community shares
From 19 September to 22 November 2019, we'll launch a community share offer to raise £137,000 to purchase and install solar panels. Anyone with a UK bank account can invest £100 or more and Lambeth residents under 25 can invest from £50. Over the lifetime of the project (20 years), investors can expect an average 3% return on investment.
Community fund
With the profits, we will not only repay our investors with interest but also create a Community Fund of £35,000. This fund will benefit schools and the community, supporting education, energy advice and innovation.
£1 shares for Lambeth
All investors become members of the co-op. Lambeth residents can become members of the co-op with a symbolic £1 share, keeping the co-op inclusive. All co-op members have an equal say.
More information