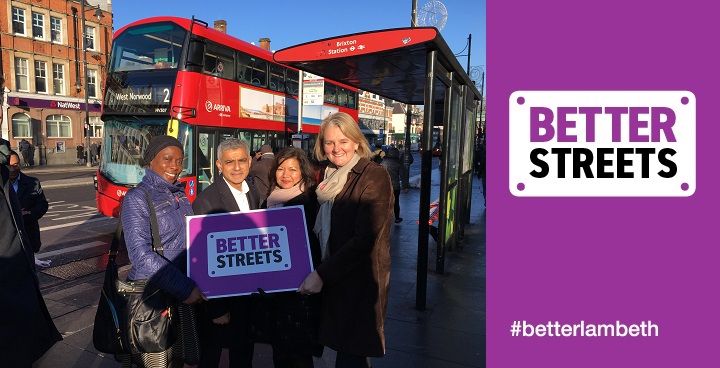 The route was the second Low Emission Bus Zone introduced by London Mayor Sadiq Khan, completed a year ago, after intensive lobbying by Lambeth Council.
In an evaluation report produced by the GLA this month, figures show that:
the buses on Brixton Road emit on average 89 per cent less NOx than previously, with some routes having reduced emissions by 93 percent
As a result of cleaning up the buses on Brixton Road, these buses now emit 73 tonnes less NOx per year than they did previously
On Brixton Road in 2016 annual average NO2 was 118 μg m-3. In 2018 to August the annual average has been 98 μg m-3
Breaches of the legal hourly limit of μg m-3 reduced by 85% in the two years since the start of implementation
While the initial findings are promising, Lambeth and the Mayor of London recognise there is more to do and remain committed to tackling poor air quality.
Word from the Cabinet
Lambeth Cabinet Member for Environment & Transport, Cllr Claire Holland, said: "These figures back up why we were calling so vociferously for a low emission bus zone in Brixton.
"We see hundreds of buses every day travel up and down Brixton Road, they were undoubtedly a major source of pollution. I thank the Mayor for taking this issue so seriously and listening to our concerns – knowing that these buses are cleaner, and releasing far fewer pollutants into our air is reassuring, but we know there is still more to do.
"We are committed to cleaning up our air and we are working hard with schools, residents, businesses, developers and construction firms, as well as urging the Mayor and central government to do even more to tackle this issue"
For more information on the various things Lambeth Council is doing to improve air quality, visit lambeth.gov.uk/airquality and read our Air Quality Action Plan.