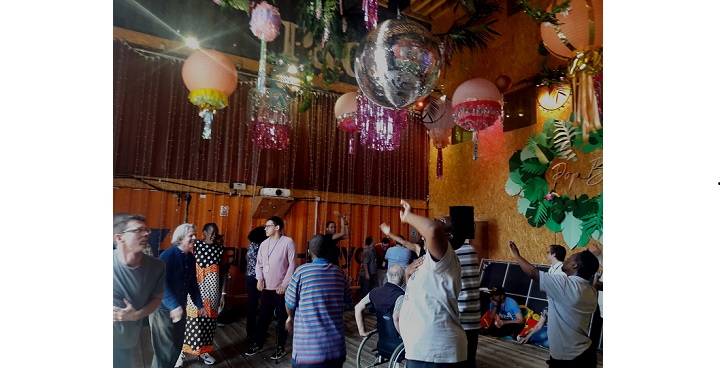 With Brixton full to bursting with entertainment and music venues, it was surprising not to be able to find anywhere that offered somewhere to dance freely during the day. So, we set up free monthly events at Pop Brixton to offer a space for anyone wanting to dance in the afternoon. Let's Dance is fully accessible, including for people who use wheelchairs. It's a fun, friendly 75-minute event where anyone can join in and dance together.
All-inclusive
"We want Disabled people to feel welcome in Brixton and we're aiming for a space that creates an all-inclusive event and helps break down those barriers that keep people apart," said Lousie Holden of DASL.
Dance for free
The event is very simple. A mixed crowd of mixed abilities, to be free and dance for free. Leave your ego at the door and get on the dance floor! It's a great exercise and mood enhancer event. Disability Advice Service Lambeth (DASL) and People First Lambeth worked with Pop Brixton to use the Pop Box in Pop Brixton. The Pop Box has a great sound system to blast out banging dance mixes to get people moving. "It was a really good event and amazing to see so many happy faces free to express themselves in such a vibrant space" said visitor Cllr Dr. Mahamed Hashi.
More to come
We started in May and invited students to come along. With two events under our belt, it is proven very popular and we want more people. We hope they'll feel free enough to enjoy themselves without alcohol. No need to book, just turn up. It's all free to be free.
---
For more information
Disability Advice Service Lambeth is a Deaf & Disabled People's Organisation offering information, support and advice to promote independent living in Lambeth. See their information pages or email the enquiry line
People First lambeth is a self advocacy organisation. We are run by and for people with learning difficulities. Email People First