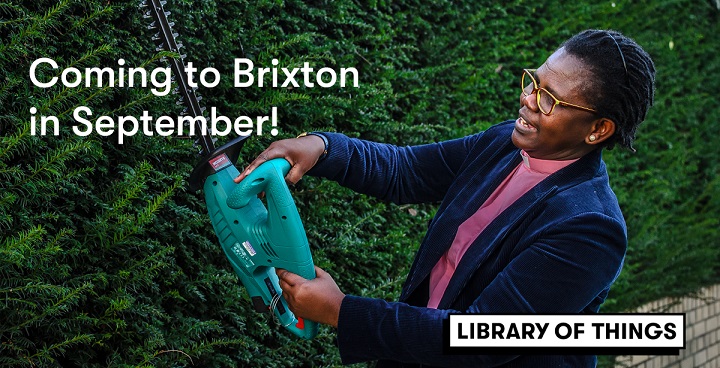 Library of Things is a social enterprise that started life in Lambeth – West Norwood and Crystal Palace. Over years of providing affordable access to quality tools for people to use at home, for projects and on adventures, we've heard lots of requests to bring the Library of Things service to Brixton. Usually because "It's too far" and "It's all uphill".
'Things on wheels'
We've recently had support from Lambeth Council through a post-COVID recovery grant, and they're supporting us to try out our 'Things on wheels' delivery service in Brixton as part of their waste prevention and climate action plans. So we're delighted to let you know we're coming to Brixton in September. We already think of Brixton as home, with our office in 3Space International House.
Why a library of things?
On average 80% of household items, like drills or electronic goods, get used less than once a month. So if every household buys a drill, and only uses it once or twice a year, a lot of drills sit lonely and disused in our homes. When they eventually break or can't be repaired, they end up in landfill. Borrowing things we use only now and again cuts down on clutter, saves each household money, brings people together to share, and is kinder to our planet. Unlike some libraries, you can borrow our Things for more than a few days – in fact, as long as you need them.
Looking for a home
We're still looking for a permanent home for Library of Things in Brixton, but before we find it, you'll be able to borrow useful things like drills, carpet cleaners, sewing machines and strimmers for a few pounds per day, and you can have them delivered to your door via our "Things on Wheels" service. West Norwood has been busy with DIY, cleaning, gardening and crafts to stay active during lockdown – we need to know WHAT Brixton wants.
Climate action
Lambeth is home to many organisations and projects that are taking steps to address climate change and build a more sustainable borough. Learn more about inspiring projects like the Library of Things (see the YouTube video) and share your ideas for collective climate action in Lambeth online before the end of October. We want to hear from you!
More information
If you don't know what kinds of things the Library of Things has to borrow, take a look at our catalogue
Follow the Library of Things online, Twitter: @libraryofthings, Facebook:/libraryofgreatthings and Instagram: @library.of.things and LinkedIn See their Jobs board