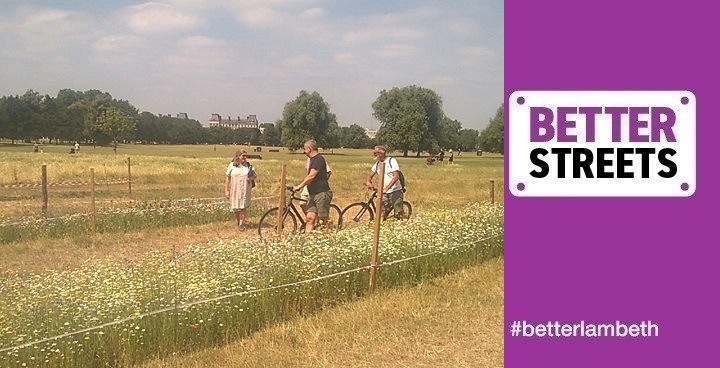 London in Bloom gives councils and community groups a chance to show off our borough's very best horticulture, biodiversity and sustainability – and how the community makes local spaces cleaner, greener and brighter for all.
Borough-wide Award
Parks, commons, allotments, community gardens and housing estates are all included in a borough's application for visits from London in Bloom's expert judges. As well as submitting a 'Borough Award', we apply in individual categories – best cemeteries, churchyards, heritage parks and gardens, nature sites and community gardens.
Flowers, fruit, fields and more…
Throughout July, Lambeth Landscapes, on behalf of the council, took the judges to an incredible diversity of sites – showing improvements done to keep them welcoming, colourful and sustainable. They included the Garden Museum, the Edible Bus Stop and Urban Orchard, plus many front gardens and floral displays by pubs and local businesses.
Rain gardens
The judges visited the 'Lost Effra Project', managed by London Wildlife Trust, which has changed sad hardstanding and old parking spaces into rain gardens – designed to help stop flooding and brighten up Lambeth with splashes of colourful biodiversity.
Individual categories
Lambeth's London in Bloom routes also featured a nature reserves and West Norwood Cemetery entered for specific awards – including superb examples in the 'Walled Garden' category in Brockwell and Kennington Parks.
Gold, Silver, Bronze?
We'll know in September who'll win Bronze, Silver, Silver-Gilt, and Gold – but we're hoping for plenty of recognition for Lambeth at the awards ceremony in Richmond Park.
More for 2019?
2018's judging is over, but already we're looking for Lambeth's 2019 London in Bloom applications. There are categories dedicated to community gardens and horticultural projects – 'It's Your Neighbourhood' and 'Our Community'. We're especially keen to include gardens, growing and wildlife sites or projects created and looked after by local communities, including front gardens and estates – not only for individual categories but as part of Lambeth's Borough Award application for everyone.
---
 For more information
If you know a place or group who are potential stars in London in Bloom, email Lambeth Landscapes or phone 020 7926 6209. We'll help get your application in.
For more about London in Bloom see their news and information pages