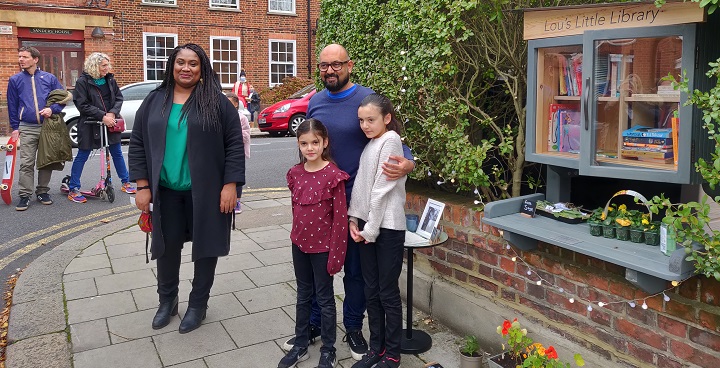 Lou's Little Library is a living memorial to community activist and mum Louise Simonsen who died last year aged just 41 – nine months after being diagnosed with a brain tumour. In her last 15 minutes of life, Louise married her partner, youth and community consultant Shaff Prabatani.
A book is another world
Shaff and their daughters, Hannah and Alia felt a little lending library would be a perfect way to remember Lou, who would read a book a week as well as helping her community as manager of a homeless project and mobilising local people to do collections for refugees.  "Lou always said reading transported her to another world – even at her sickest", said Shaff. "She wanted everyone to read. Our daughters love it too – our house is stuffed full of books."
Wood and roots
Hannah and Alia wanted Scandinavian style for the library, in keeping with their mum's Danish roots. They took their ideas to local bespoke furniture company Treesaurus. Shaff shared three designs on social media where more than 100 people discussed design choices. Local businesses also produced a sign and special Lou's Little Library bookmarks. Pathfield Nursery next door funded the project.
Treasured books
Shaff says: "We hope Lou's Little Library will be a living memorial to Lou – and, most importantly, inspire more people to pick up a book and experience the magic of reading. We'd love the books that people treasure – the ones you just can't wait for someone else to read and enjoy as well. And please leave a message inside to share with whoever is lucky enough to get your book next." As well as cherished books, Lou's Little Library lets people share local produce such as herbs or plant cuttings.
First book
The Library was officially opened on Saturday 17 October by Streatham MP Bell Ribeiro-Addy as part of Streatham's Literature Festival. Bell Rebeiro-Addy MP chose the first book Dear World: A Syrian Girl's Story of War and Plea for Peace by Bana Alabed – and invited Lou's daughter, Alia, to place it in the library.
 More information