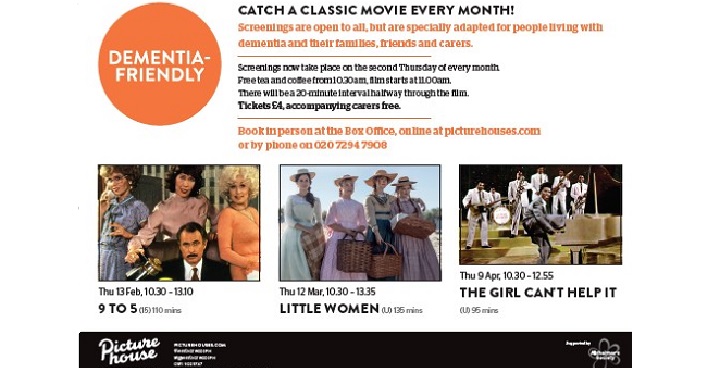 West Norwood Picturehouse now offers monthly dementia-friendly film screenings. We asked Ryan Powell of the Picturehouse chain about the thinking behind it, future plans – and what makes the cinema experience dementia-friendly?
Valued experience
"We have held Dementia Friendly Screenings at Picturehouse since 2015 and our cinemas were some of the first to take up and develop the concept. We first looked into holding screenings adapted specifically for people with dementia after a query from a customer. At that time the only cinema holding such events was The Dukes cinema in Lancaster so we went up to talk to the team there and see how they are run. We could see that they were a really valued experience and so were fired up to launch a Dementia Friendly strand of our own. Initially we held them at just Hackney and the Picturehouse at FACT in Liverpool but now we run monthly dementia-friendly screenings at 20 Picturehouse cinemas across the country.
Open to all
"Dementia Friendly Screenings are open to all, but aim to make cinema more accessible by providing a fun, friendly and inclusive experience for people living with dementia. During the screening the lights are left on low, there are no adverts or trailers and the audience is allowed to move around – or sing along to any musical numbers – should they wish to!
Mix of classic and recent
"Free tea, coffee and biscuits are served for half an hour before the film to give people the chance to meet and socialise with others, and to familiarise themselves with the cinema space and there is extra signage put up to help you navigate the building. Tickets are at the reduced price of £4 per person, with a free place for accompanying carers. We try to program a mix of classic and recent films with a focus on musicals due to the proven benefits of music for people living with dementia.
A bigger audience
"We are committed to ensuring that our Dementia friendly screenings are able to continue into the future. For this to happen we need to reach a bigger audience and so our priority is to make sure that the people who would benefit from these screenings know that they are happening and are able to come along."
More information
For details of all fims at West Norwood Picture House, see their information pages https://www.picturehouses.com/cinema/west-norwood-picturehouse. Dementia-friendly screenings are on the second Thursday of every month.